Bespoke Metal Work For Hospitality
Working with luxury natural materials brands such as Nature Squared and interior designers, Two's Company
Despite a challenging market with Brexit to consider and pressure on disposable incomes, the UK hospitality sector has enjoyed steady growth and was worth over £100 billion at the end of 2018. The hotel industry forms the majority share of the sector followed by restaurants, bars and other hospitality venues.
As we've learned over the last five decades, new and interesting sheet metal projects are often just around the corner. We've been fortunate to work in a wide range of market sectors and hospitality is no exception. Our recent work with luxury natural materials brand, Nature Squared, and interior designers Two's Company highlighted to us the expansive nature of sheet metal and how many applications it has.
Our work with Nature Squared and Two's Company
This project required us to assist Nature Squared in the design, manufacturing and production of items which were used at the October 2019 Independent Hotel Show. The show, billed as a major event for the hospitality industry, was held at London's Olympia. Nature Squared were also sponsoring the suite; they were keen to display their unique talent and business concept at this popular event.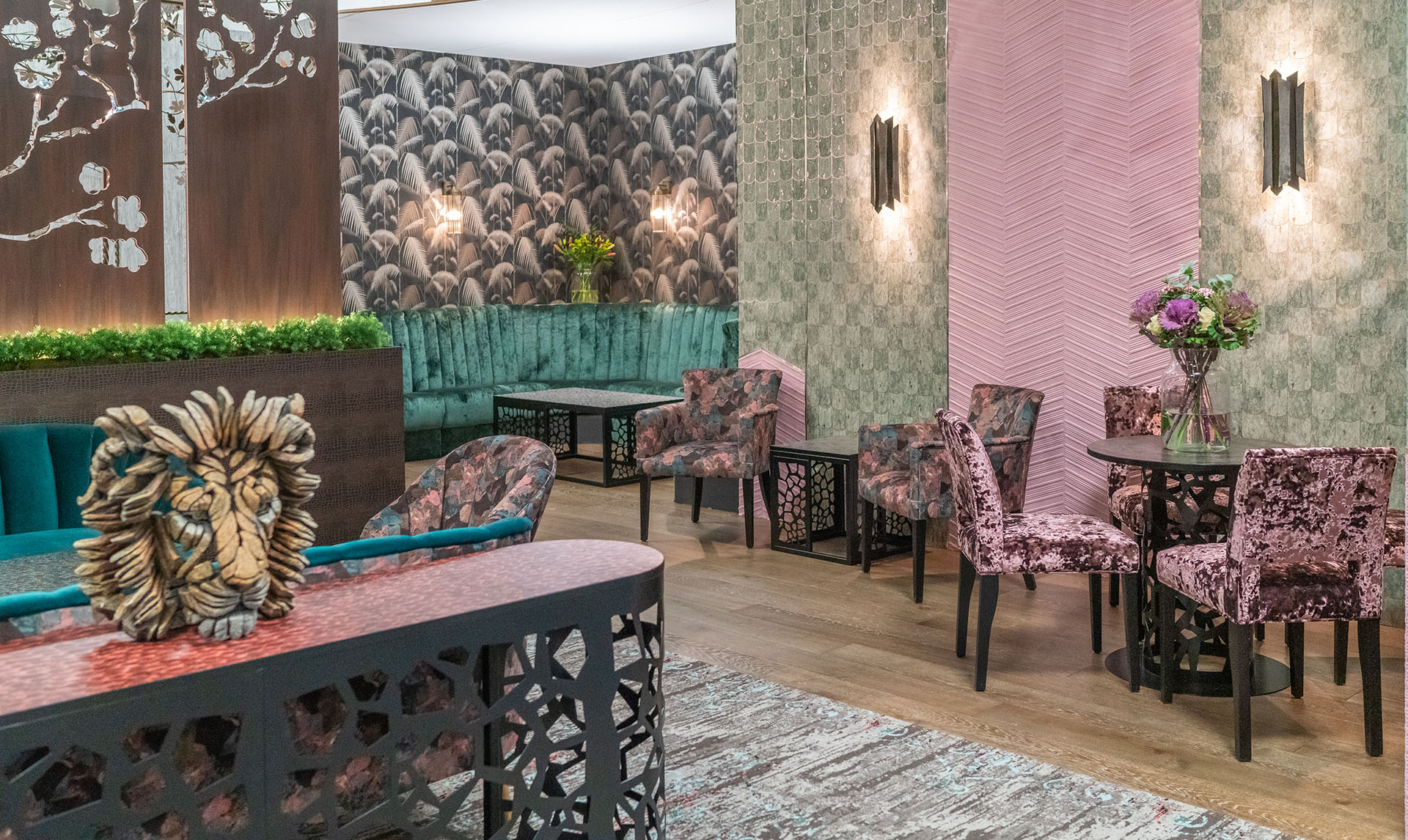 What part did Alroys play?
The concept for the VIP suite at the Independent Hotel Show was super-luxe. Interior design company Two's Company has envisioned a space with a sumptuous feel that nonetheless leant itself to productive working for the many business people attending. Aimed at chief execs and head buyers, the finish needed to be opulent and stylish with well-appointed areas for relaxation and co-working.
Nature Squared were already on board as the creators of stunning, bespoke furniture including a bar front and table tops. Their mission is to create 'unique, luxury surfaces celebrating nature's beauty'. The table tops they produced were made using natural coloured and dyed guinea fowl and pheasant feathers while the bar front was inlaid with discarded mother of pearl shells.
While the table tops were in production, we were asked to create table bases. To complement the tops, we knew they had to be visually stunning as well as functional.
The production process
Interior designer, Nick Sunderland was clear when he briefed us, that the bases must act as the perfect companion to the unusual, exotic feather-inlaid table tops. Working together, we discussed various options and agreed that we would aim for a perforated effect. Our first concepts were based on a metal base with a diamond effect but after conversations with the Nick and the design team, we all decided the final look would be uniform and too 'neat' for the table tops. They required something more dramatic and edgy. As we do with many clients, we went back to the design stage, taking their comments on board and produced additional concepts. By the end of the process, we had all agreed upon a base with a tortoiseshell finish.
It was important that the base was able to withstand weight and pressure from various items such as crockery, computers, human pressure, etc. We worked on creating a prototype to test the functional aspect of the base and decided that we would manufacture the base in three separate parts which could be assembled.
First, we would create a box-section frame. This would absorb the weight placed on the table top and create maximum stability. On top of the frame, we would create a wrap-around panel; each panel would bear the tortoiseshell design which complemented the table tops so beautifully. Finally, we would produce a tray for the tops to sit within.
Challenges and considerations
There weren't too many challenging moments during this process but we did have to consider a range of practical issues. To deliver a clean, crisp finish on the box-section frame without affecting stability or strength, we cut it to size with mitred ends and fuse welded the parts together. It also required drilling and bushing.
Moving on to the tortoiseshell panelling, we decided to use lasers to cut the sheet metal before forming into the final shape. To form the sheet, we hand rolled and CNC formed, according to the finish we were aiming for.
Finally, we used a range of techniques to create the trays for the table tops, including CNC punching, CNC forming and fuse welding.  The final touches were to spray paint everything matt black prior to assembly. As is evident from the images of the tables, the table bases are the perfect partner for the table tops and looked stunning on display at the Independent Hotel Show.
A tasty project for a restauranteur
Our brief for a restaurant chain was to manufacture bespoke partition railings for one of their restaurants specialising in Indian cuisine. The railings would create walkways and section off booths to create discrete dining areas. They wanted something unusual and distinctive, combined with a 'rustic' look and feel. They asked for our help creating design concepts and following a team brainstorm, we all agreed upon the final concept.
To achieve the desired rustic look we opted for mild steel material with a clean finish; minor blemishes and imperfections would be apparent in the finish and suit the rustic style perfectly. The top of the railing would act as a handrail for customers and therefore it needed to be smooth. To achieve this, we opted for a rectangular box-section, using ERW grade steel which is perfectly smooth to touch.
We knew from the outset that standard upright posts used in railings would not be acceptable. And so, our designs incorporated a curved 'S' shape, to resemble a flame, symbolising the heat of fire and the heat of spices used in Indian cuisine.
We created these curved 'S' shapes from mild metal sheet using our CNC punching machine. To create a burnt effect, we discoloured the material by injecting extreme heat into different areas using a blow torch. The effect was stunning, with burnished areas at the point of impact with the blowtorch and an outward rippling effect of oily rainbow colours.
Finally, the railings were welded together and sprayed with a clear lacquer so that the finish would be preserved. In a busy restaurant with many people touching the metal every day, this was a necessity. Once complete, we installed the finished railings into the restaurant, much to the delight of the customer.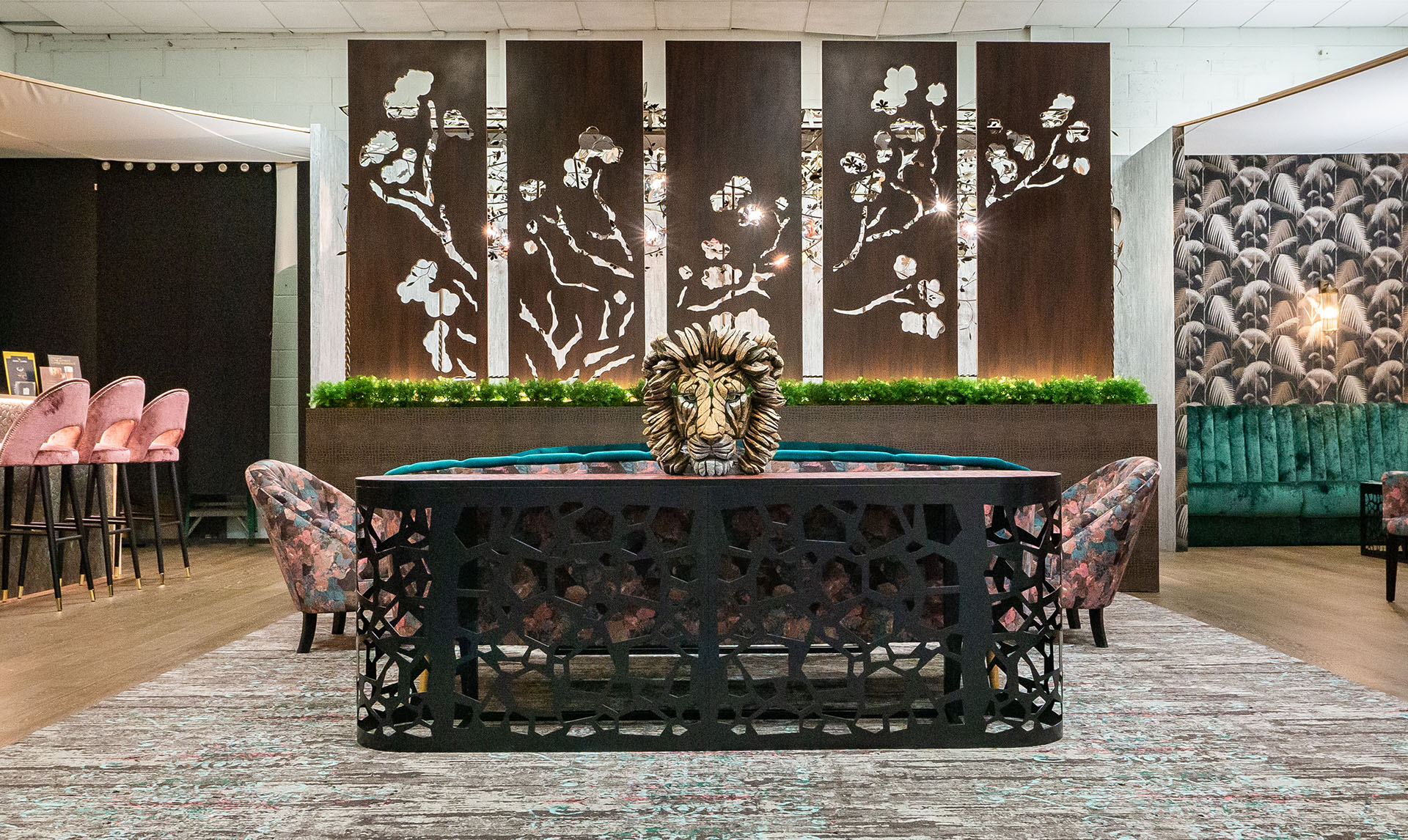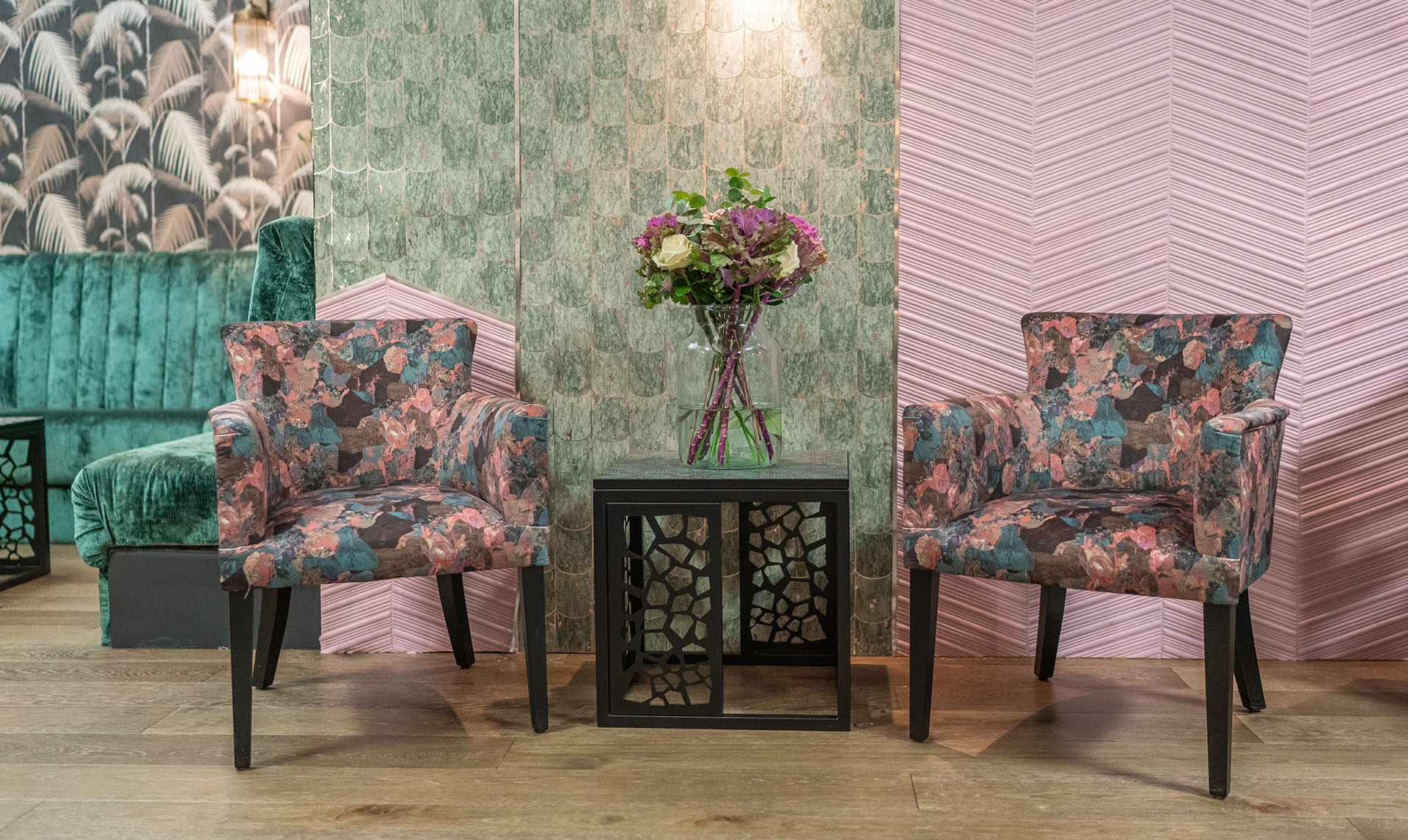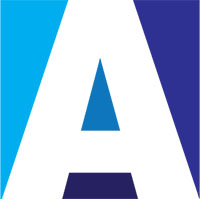 Talk to us about your next project
With over 60 years experience, we have built up a reputation of providing high quality products, on time delivery and professionalism.
As a leading steel manufacturer in the UK, we can handle any project using materials such as stainless steel or aluminium. Whether you come to us with a blank canvas or ideas already in mind, we will take on any request and contend to calculate and guarantee exceptional results.
Call us to discuss your next project.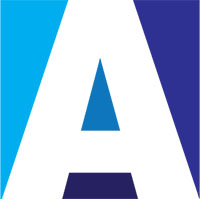 Arrange an appointment
If you'd like to visit us to discuss your next project in person, please use the number above to arrange a time suitable for you.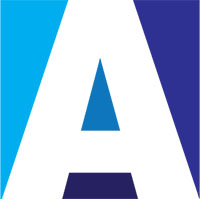 Download our brochure
Click here to download our brochure.
Depending on your browser settings, the brochure will either open in a new browser window (save to your computer to view) or will download directly to your computer. You will require a pdf reader to view our brochure once saved to your computer.