We're renowned in the UK for our sheet metal work, both precision and large-scale, delivering metal work to the highest standards.
At Alroy's, we always go the extra mile to meet your needs. We're renowned in the UK for our sheet metal work, both precision and large-scale. Our experienced and dedicated team will deliver and install metal work to the highest standards and the most precise requirements. As a family-run business with over half a century's experience, we're a proven partner for businesses around the UK in a variety of manufacturing sectors.
For over half a century, sheet metal has been at the heart of our business. From the beginning, we've been committed to creating high-quality products for our customers and this commitment continues to this day.
In this section, we'll look in detail at our sheet metal services. If you've got a project in mind, get in touch today and we'll be happy to show you how we can help you bring it to fruition.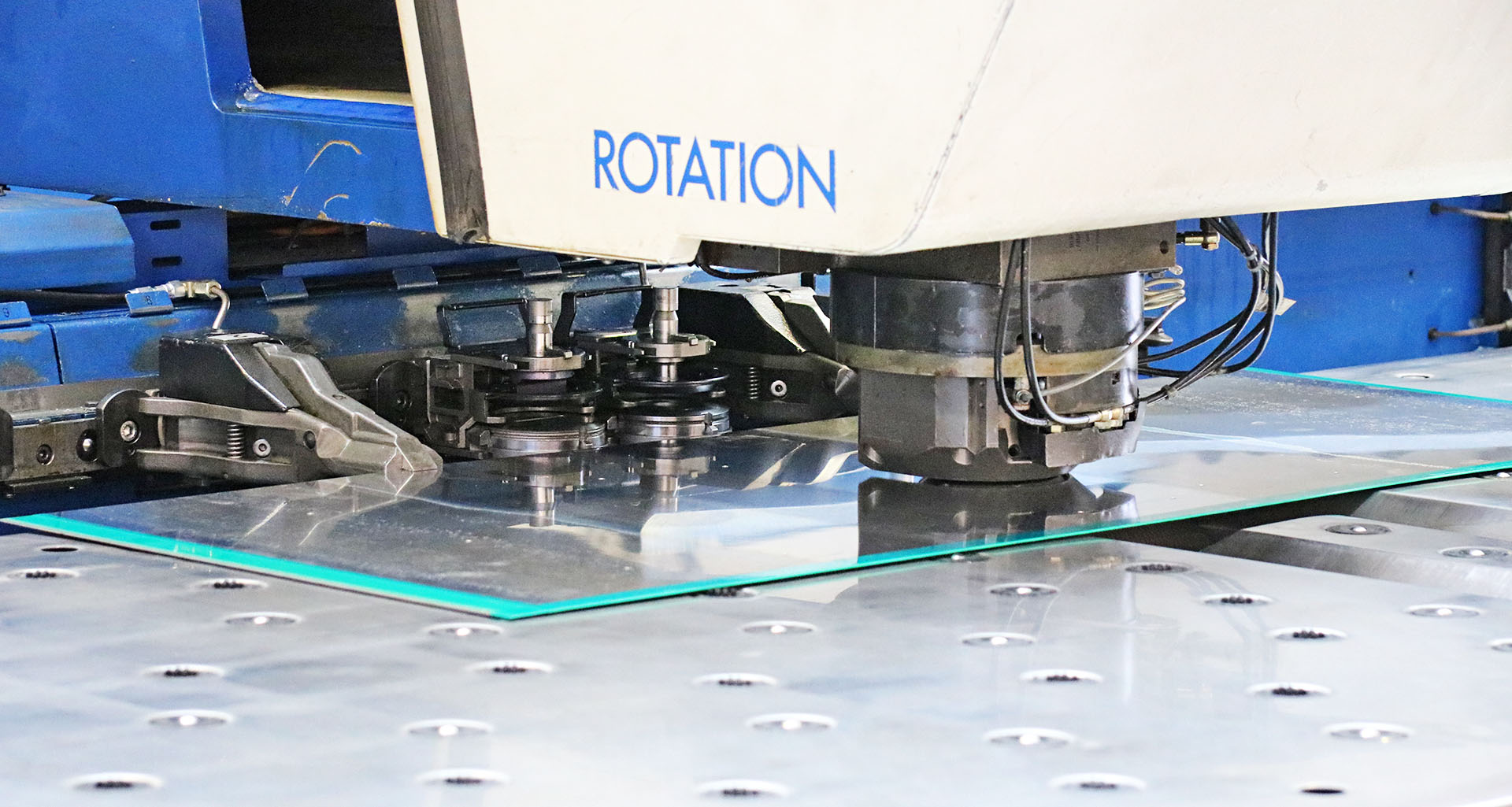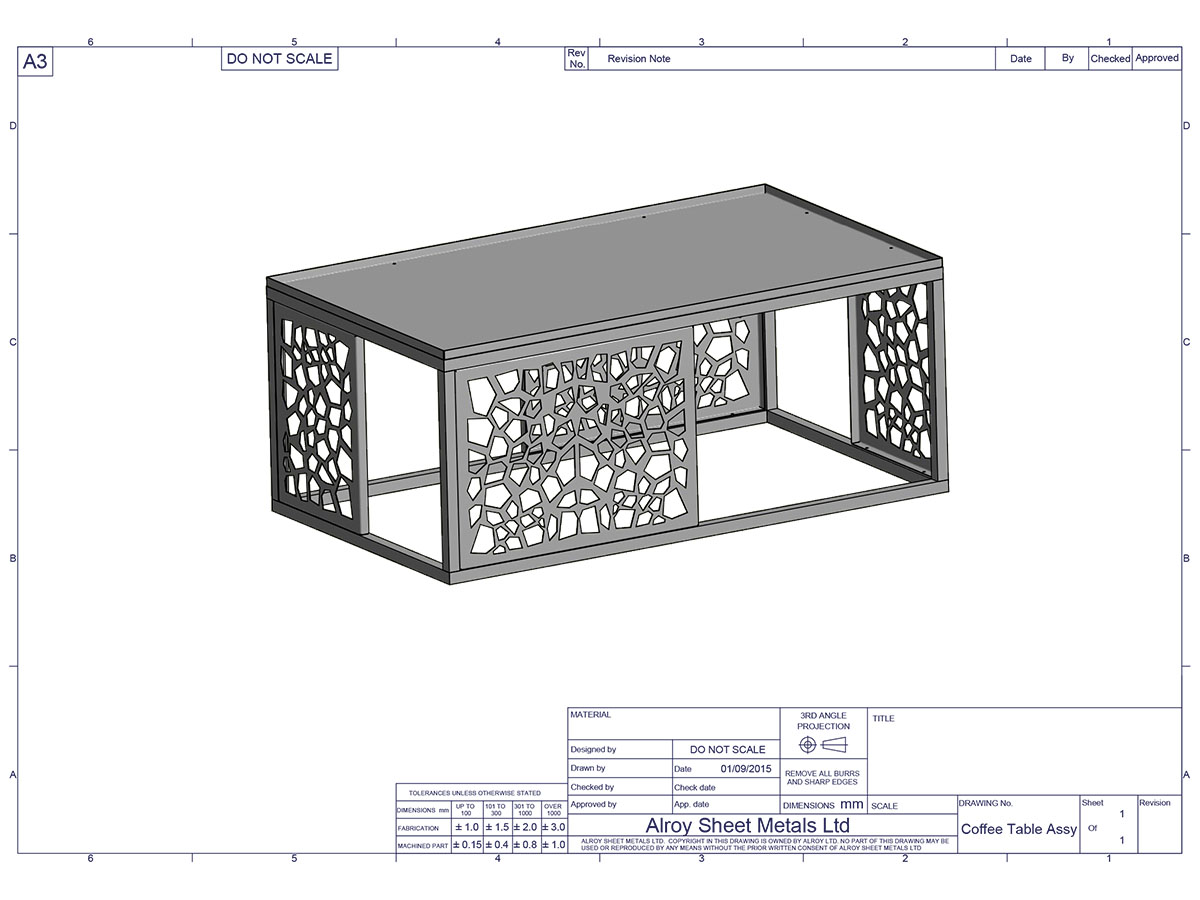 Prototyping
Sometimes, we're asked, what's the point of prototyping? It's a good question. Why have a test run when you can just get on with the real thing?
In the case of metalwork, a test run can predict and prevent costly mistakes. Creating a prototype means you are putting your design concept through its paces before committing to an expensive assembly line turning out hundreds, possibly thousands of parts. That's not the only reason we're asked to produce a prototype. You may need it to convince shareholders or a business partner about a future project, or so that exact tooling requirements can be worked out in advance.
Whatever the reason, with the latest in automation software and using our 3D CAD modelling and CNC (computer numerically controlled) facilities, we will work with you to produce your sheet metal fabricated prototype quickly and cost-effectively. We're known for our can-do attitude and problem solving abilities, so we're confident there's nothing you can throw at us that we can't handle.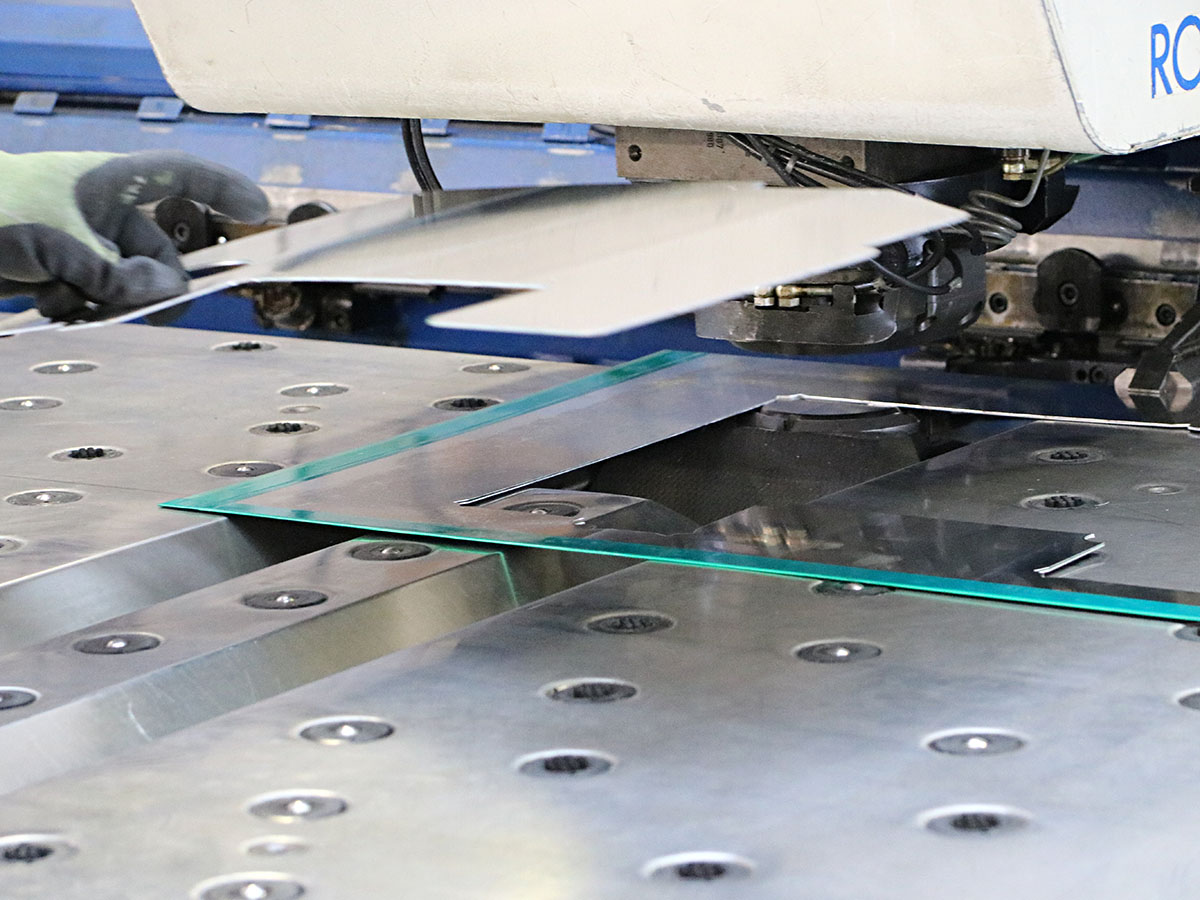 CNC Punching
The CNC (computer numerically controlled) punching process uses computer technology to accurately punch holes and shapes into sheet metal. Our punching machines are installed with software which converts your product design into numbers. These numbers can then be read by our punching machines to produce many different sheet metal parts.
At Alroys, we use only the finest punching machines. Trumpf is widely regarded as one of the world's leading developers of CNC punching technology and suppliers of CNC punching machines which is why we work with them. Did you know that we were the first sheet metal company in the UK to import a Trumpf 151 machine in the 1980s?
With the combination of 3D modelling, CAD/CAM software and Trumpf technology, we can process a sheet metal part within minutes. From circles, to squares to more complicated shapes, our technicians can skilfully create a wide range of components to your specific brief.
If you're looking for precision parts from a supplier who understands pressures on time and budgets, look no further than Alroys.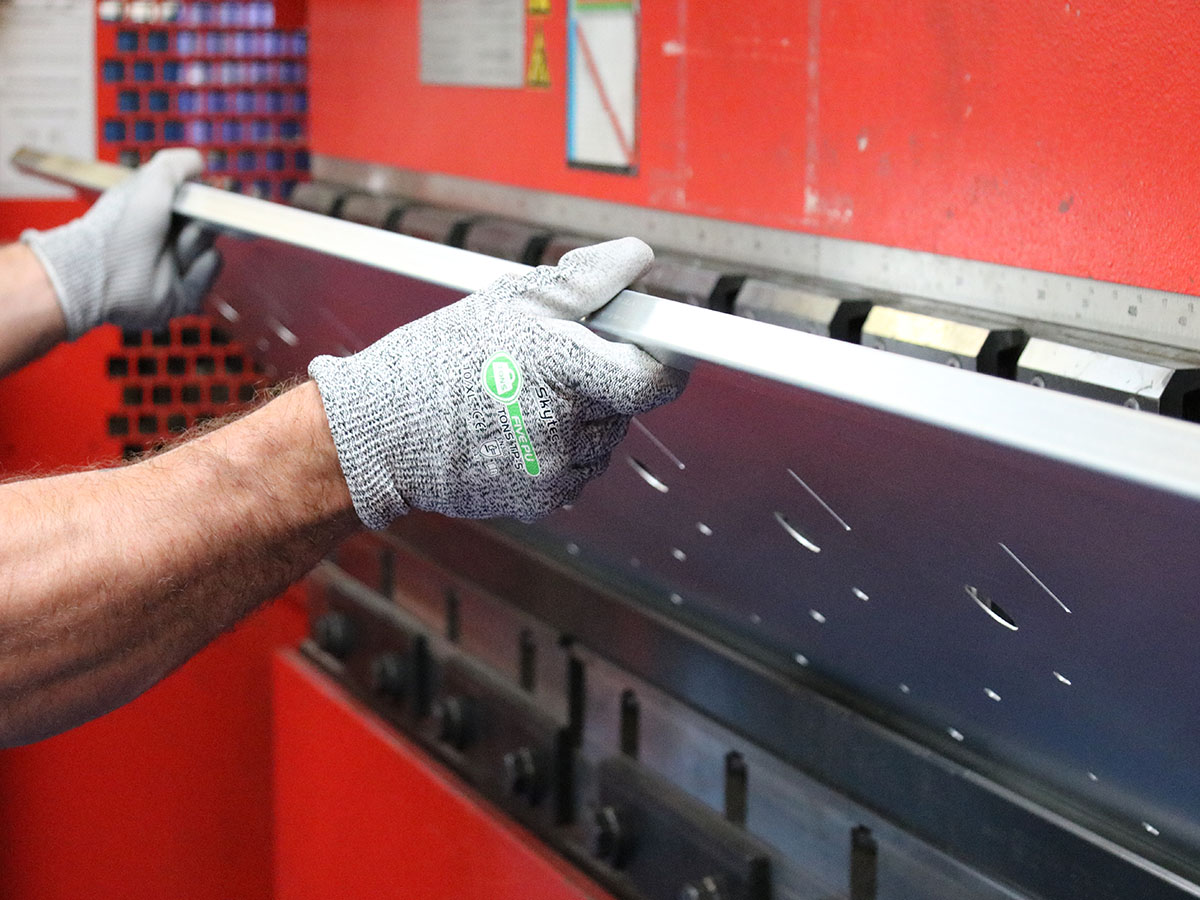 CNC Bending
CNC bending, sometimes called CNC forming, uses the same computer numerical technology as CNC punching to bend flat sheet metal into a specified shape. A simple example of this would be the creation of a 90 degree right angle to form a corner bracket.
Traditional machines used for CNC bending are called press brakes (or brake presses). They can transform sheet metal of up to tens of metres long creating bends and new shapes. Our skilled technicians have thousands of hours experience operating these machines, assuring you of their ability to manufacture your precision parts.
We also use radius tooling and swan neck tooling to produce channel forms and various internal bend radiuses.
One of the major advantages of CNC bending technology is the reduction in cost and time for manufacturers, suppliers and end users. Components with multiple bends can be produced in minutes with reliable accuracy. Compare this to, now outdated, manual methods where each part was handled several times to achieve the same outcome.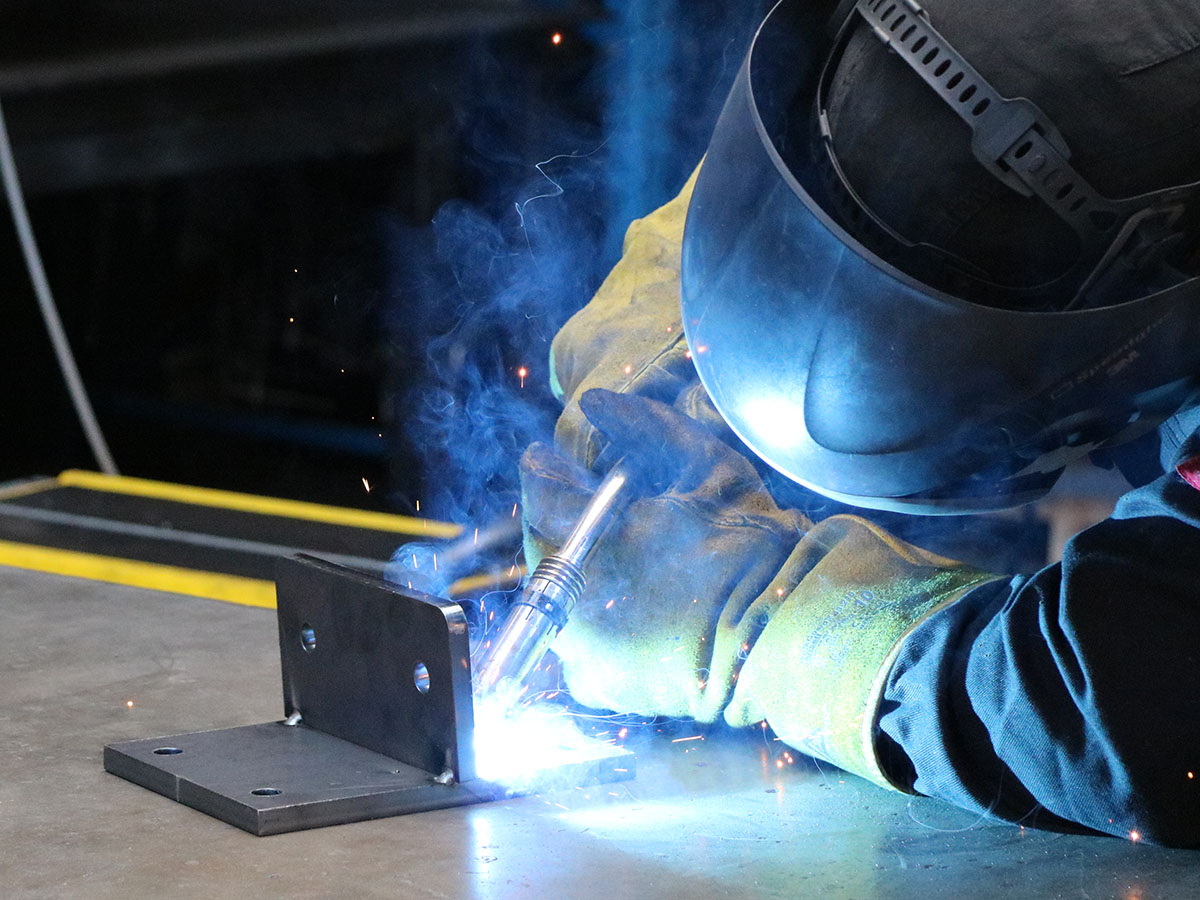 Welding
Welding sheet metal is the process whereby metal is fused together creating a strong, durable joint. Welding is commonly used where it's not possible to create your part from one piece of metal.
Modern techniques allow us to weld even the finest gauge metals without compromising strength or integrity. We use two well-known techniques; TIG welding and MIG welding. MIG welding is arguably a simpler process than TIG.
TIG stands for 'tungsten inert gas' and MIG for 'metal inert gas. A MIG welder uses metal welding wire which melts and fuses both metals together whereas a TIG welder uses a tungsten electrode. The electrode is not melted or fused to the base metal during the process, hence it being described as 'non-consumable'. Filler metal may be needed during the TIG process; if so, it can be supplied with a filler rod or metal offcuts. MIG welding is done under high heats which means it is more suitable for thicker metal gauges which are inherently more robust.
Our years of experience in welding have seen us work on diverse projects using a range of metals including stainless steel and aluminium. For structural welding projects we can weld mild steel up to 20mm thick.
We can help you decide if welding is the right choice for your particular project. There are advantages and disadvantages to the process; our welding page takes a look at these in more detail.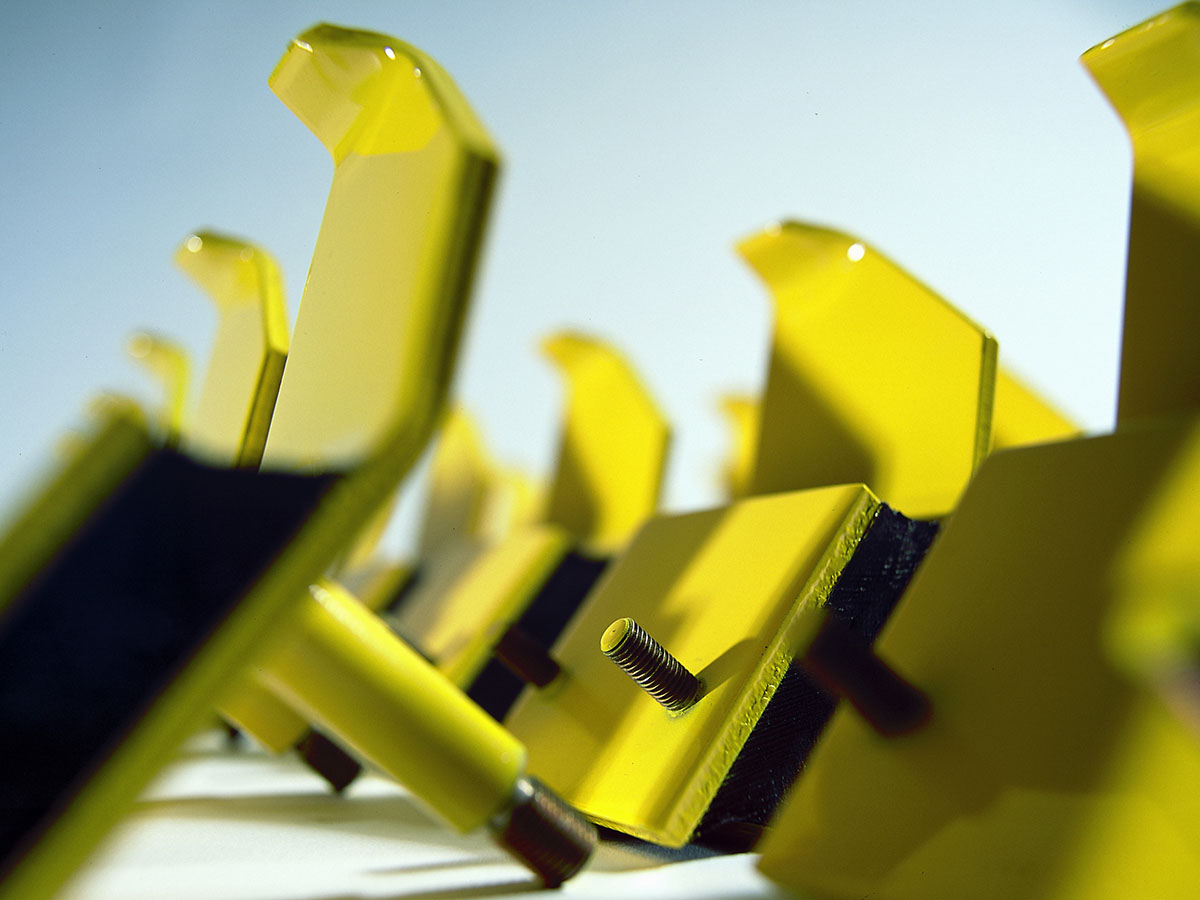 Assembly
Once we have created your components using a range of sheet metal techniques, we come to the all-important assembly stage. There are numerous techniques we can call upon during assembly to ensure a high-quality finish. These include welding, crimping, riveting and bushing.
If we're working with you on a prototype development, which we know can be challenging to get right, the assembly stage is especially important. Our assembly technicians test each part and assess how well they fit together, giving you complete confidence that your prototype is ready for mass production.
Thanks to our many years in the industry, there's not much we can't assemble when it comes to sheet metal fabrication projects. We work in multiple, diverse sectors and offer all our customers a range of services from single component to complete assemblies. And our assembly lines are kitted out with high-quality machinery including rivet guns, bushing guns, stud welders, press brakes and fly presses.
With our state-of-the-art manufacturing facility in which we're constantly investing, we're confident that we can provide you with the service you're looking for. If you'd like to find out more about the Alroys' assembly process and how we work, take a look at our sheet metal assembly page.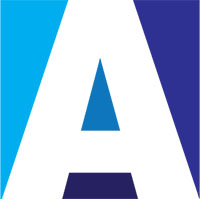 Talk to us about your next project
With over 60 years experience, we have built up a reputation of providing high quality products, on time delivery and professionalism.
As a leading steel manufacturer in the UK, we can handle any project using materials such as stainless steel or aluminium. Whether you come to us with a blank canvas or ideas already in mind, we will take on any request and contend to calculate and guarantee exceptional results.
Call us to discuss your next project.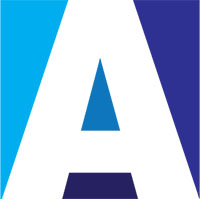 Arrange an appointment
If you'd like to visit us to discuss your next project in person, please use the number above to arrange a time suitable for you.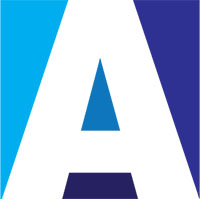 Download our brochure
Click here to download our brochure.
Depending on your browser settings, the brochure will either open in a new browser window (save to your computer to view) or will download directly to your computer. You will require a pdf reader to view our brochure once saved to your computer.