Our client operates in the commercial sector planning and managing the refurbishment, fit out, alteration and maintenance of interiors for occupiers, owners and landlords.
They pride themselves on their proactive 'hands-on' approach to every project and on always delivering excellent results to their customers. Ethics closely shared by the team to Alroys and the main reason why our partnership is so successful.
Alroys has worked with this commercial client for over ten years. Our relationship started mainly with supplying small components such as brackets, stainless steel covers and trims. Over time, this has materialised into larger scale projects which now includes assisting on design, manufacture and installation as well as production.
In this case study, we take a look at two projects we've worked on.
Project 1
The Brief to Alroys
One of our client's own customers had offices with a large customer car park but thanks to the layout, it was easily accessible to the public, at both underground and overground levels. This problem was created by the car park running adjacent to the pavement with a small accessible gap in between the two. Clearly, this was far from ideal and with security concerns, our client turned to us for advice.
Their brief to us was to devise a solution which prevented access despite the challenging spaces involved. As can be seen from the pictures, the gaps were relatively small and at awkward angles. It was time for us to put our thinking caps on.
Our Solution to the Problem
We mentioned above how important it was to take accurate measurements. This was highlighted when we discovered that one side of the building sat next to a wall which tapered slightly inwards along its length.
The distance was roughly 30 metres and the uneven wall tapered by 50cm in total. This was frustrating because it meant that the mesh panels couldn't all be manufactured to the same size. To counteract the irregular measurements and ensure that all panels looked the same, we had to take measurements at small, regular intervals and construct each panel individually to fit.
Issues with Varying Measurements
To counteract the problems created by the awkward access points, we decided that the optimum solution would be to design, manufacture and install bespoke security mesh panels. These would still allow daylight to enter the underground car park but would also be secure enough to prevent unwanted intrusion from passers-by.
We conducted a full site survey which was essential as the measurements all varied and had to be accurate. Our technicians worked alongside our client's designers to develop a concept which we were all happy with and which we knew would work. We then fabricated angle iron frames, inserted woven mesh panels and with bespoke security fixings (as no proprietary fixings were available), we were able to successfully span the specified area and fully secure the premises.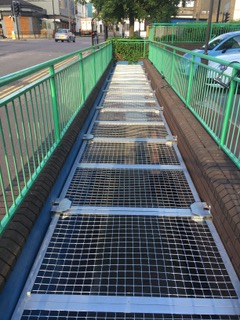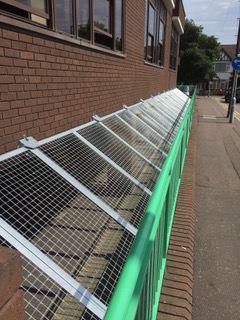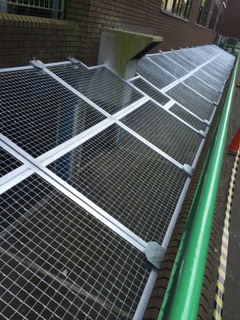 To meet the customer's deadlines, we were also happy to help speed up the design process, working with the structural designer to identify missing components such as connector brackets and purlins. The purlins had to be manufactured to an exact specification and so we liaised directly with the purlin manufacturer to achieve this.
How did this improve the outcome? Well, we were able to submit drawings to the structural engineer ahead of schedule and despite encountering a few minor issues along the way, we delivered the project on time, much to the client's satisfaction.
One example of a minor hiccup was during installation, when an existing support gusset (not something supplied or installed by Alroys) directly interfered with a major support beam which we needed to install. It had been accidentally missed from the structural drawings; had we known it was there, we could have provided a work-around. The presence of this gusset prevented us from drilling and fixing the beam in the intended position.
As a team, we discussed how to overcome this problem. In the end, we decided to redesign our support beam and make a new support bracket. These two modifications meant the beam could be fixed below the existing gusset without too much delay or change to project specifications.
Within 24 hours of discovering the problem, we had not only updated our customer (who was relieved and instantly approved our plan), but we'd also manufactured the new parts ready for installation.
Project 2
The Brief to Alroys
This project was essentially an extension to an existing project that we were working on with our client. It involved two entrances to the building which required canopies overhead. We were asked to design the canopies and once design was approved, to manufacture and install them to our client's satisfaction.
The first challenge presented to us was that there were no drawings, however, we were supplied with photographs to illustrate the concept. We were also told that the canopies must be fitted to the building with Tie Rods, which would help with support.
The canopies needed to look robust but couldn't be too heavy, as this would overload the brickwork at the front of the building. Signage and lighting were also required. Therefore, we knew we had to create a relatively lightweight, internal steel framework which could support external aluminium fascia and soffit panels. There were additional structural requirements to consider such as the impact of rainwater and snow melt.
First, we considered all the variables, discussed if they were achievable and if they were within our scope. After agreeing that this was something we could deliver, we developed a concept which we believed was workable. To support the concept and enable the client to understand what we were planning, we supplied sketches and a full brief. It was also important that our client was in full agreement so that there were no unintended consequences to deal with down the line.
Once they approved the initial concepts, we were able to provide more technical detail, creating CAD models and drawings. During this phase, we liaised with their design team and structural engineer.
As well as the framework and fascia panel designs mentioned above, we also had to consider all external elements, how the internal and external soffit panels would protect the final structure from water and what type of drainage would be best to incorporate, to remove excess water.
The customer signage on the front fascia panels also required our consideration. LED lights behind the lettering needed to be visible through the fascia panel, and so we worked as a team to determine how best to achieve this.
Production and Installation
There was a long list of design requirements, but after completing them all and receiving approval from the project team (including several designers and the structural engineer), we were given the green light to commence production.
Our years of experience have taught us that exceptional diligence during the design phase means production and installation runs far more smoothly. This project was no exception, and we were thrilled that our client and their end customer were delighted with the results.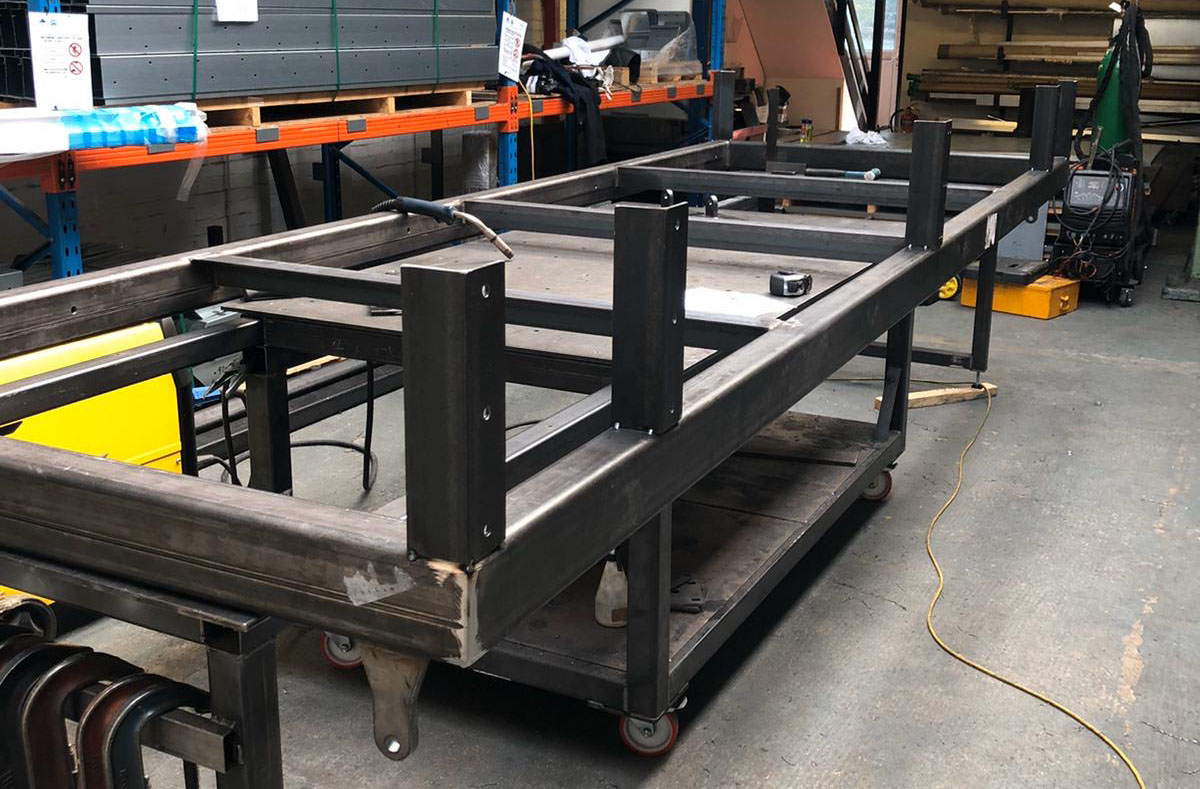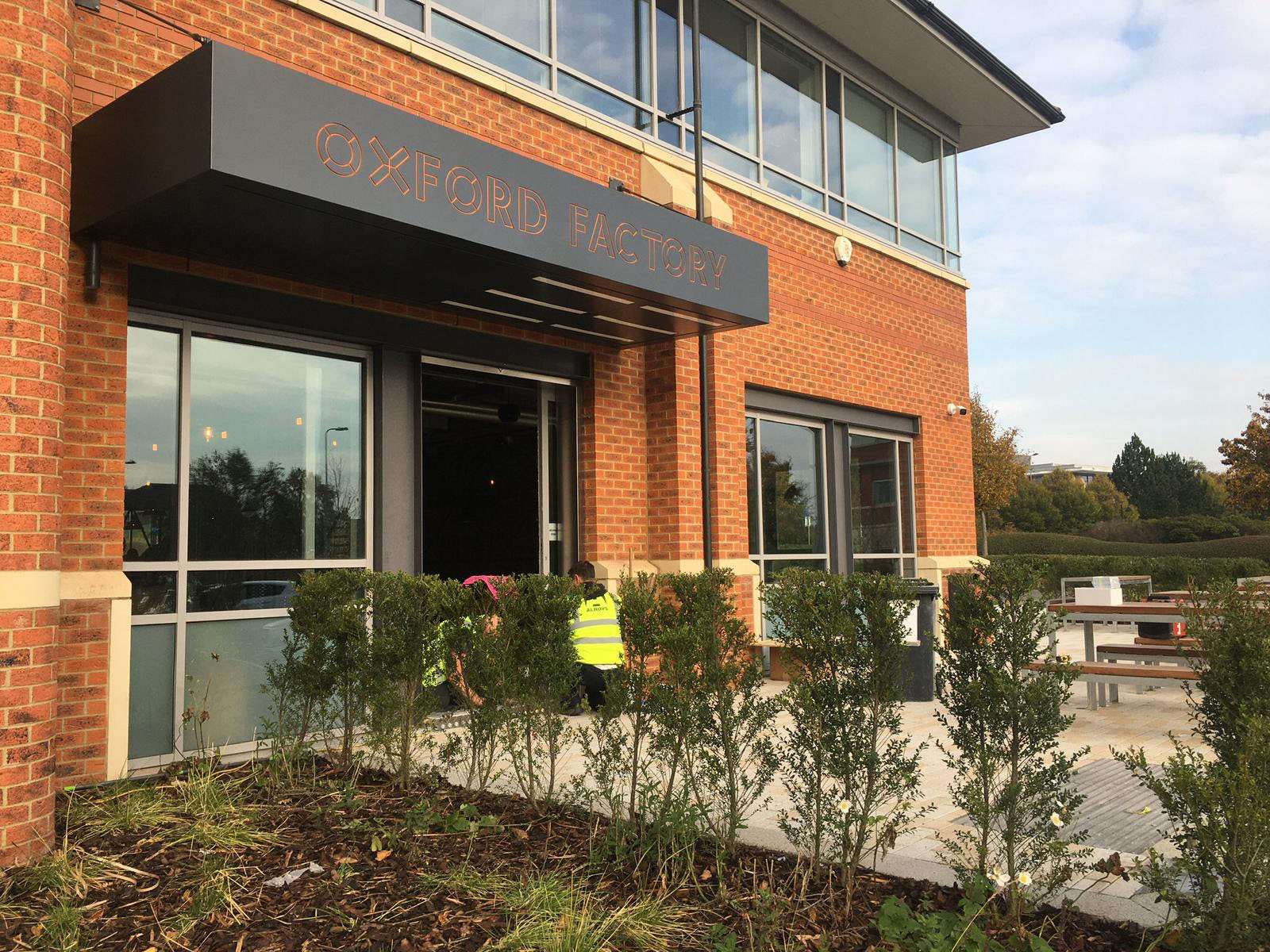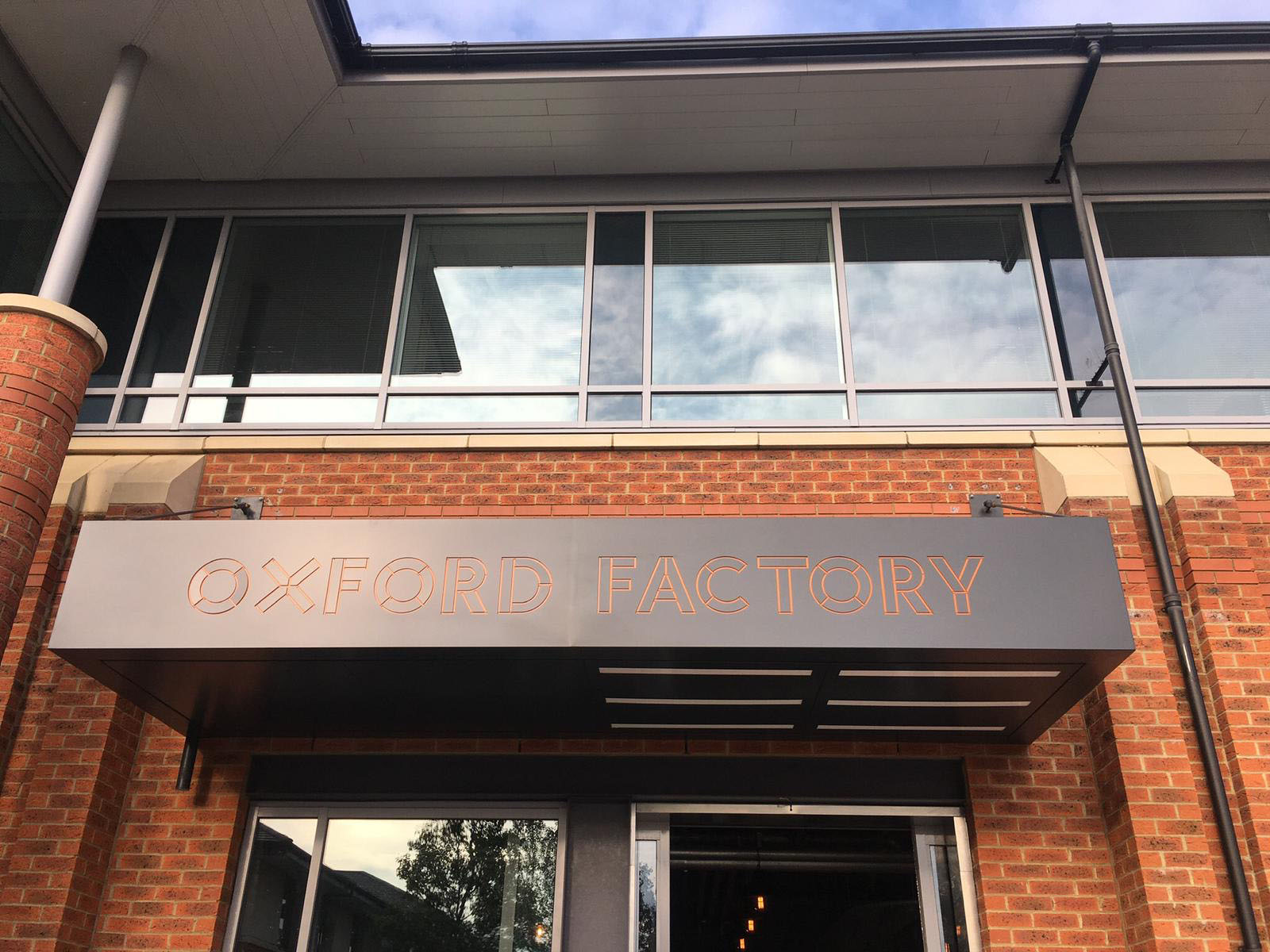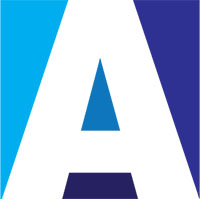 Talk to us about your next project
With over 60 years experience, we have built up a reputation of providing high quality products, on time delivery and professionalism.
As a leading steel manufacturer in the UK, we can handle any project using materials such as stainless steel or aluminium. Whether you come to us with a blank canvas or ideas already in mind, we will take on any request and contend to calculate and guarantee exceptional results.
Call us to discuss your next project.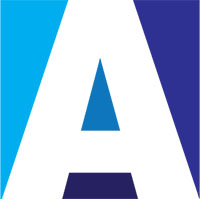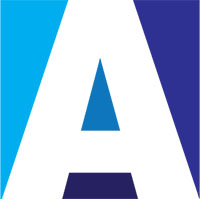 Arrange an appointment
If you'd like to visit us to discuss your next project in person, please use the number above to arrange a time suitable for you.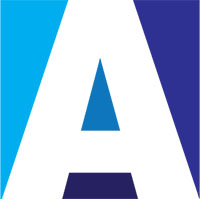 Download our brochure
Click here to download our brochure.
Depending on your browser settings, the brochure will either open in a new browser window (save to your computer to view) or will download directly to your computer. You will require a pdf reader to view our brochure once saved to your computer.