Pharmaceutical Case Study. 
This pharmaceutical giant is well respected internationally and has many sites across the UK and around the world.
Alroys first began working with them when one of their UK sites was under construction in the 1980s. It was a huge site but as we were located just around the corner, we were able to assist with various projects, many at short notice: for example, we created hundreds of metres of ducting, built stainless steel cabinets and suspended walkways.
After the site was completed in 1995, we continued to assist with projects, either directly or via their main contractors.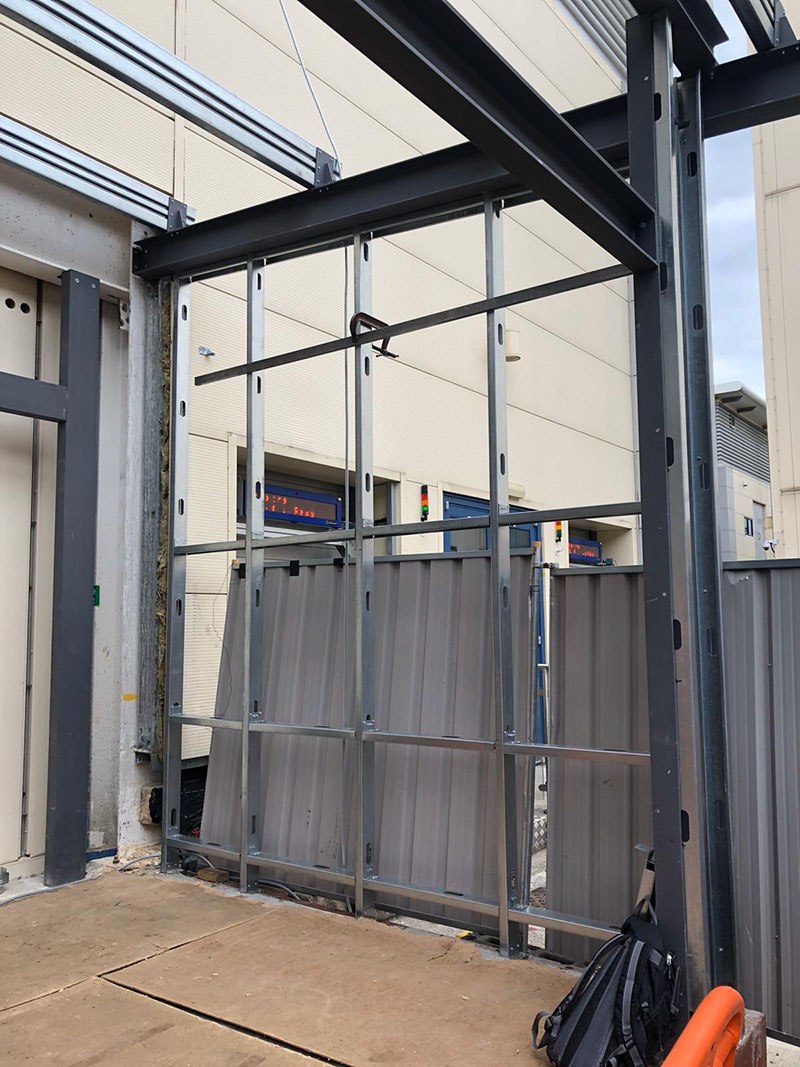 Our client had invested in a state-of-the-art manufacturing facility in response to increased demand for their portfolio of respiratory medicines. They turned to Alroys to create a steel framework to support four roller shutter doors and cladding.
Throughout the day, fork lift trucks delivering materials would access and exit the premises on a regular basis. This meant that the roller shutter doors were being opened and shut each time a truck arrived and left. Consequently, room temperatures inside the building were fluctuating and there was an increased risk of contamination from outside. Clearly this was unacceptable in a pharmaceutical facility.
The brief from the client was to create faster fork truck access which would also enable technicians at the site to maintain internal room temperature and minimise unwanted contamination.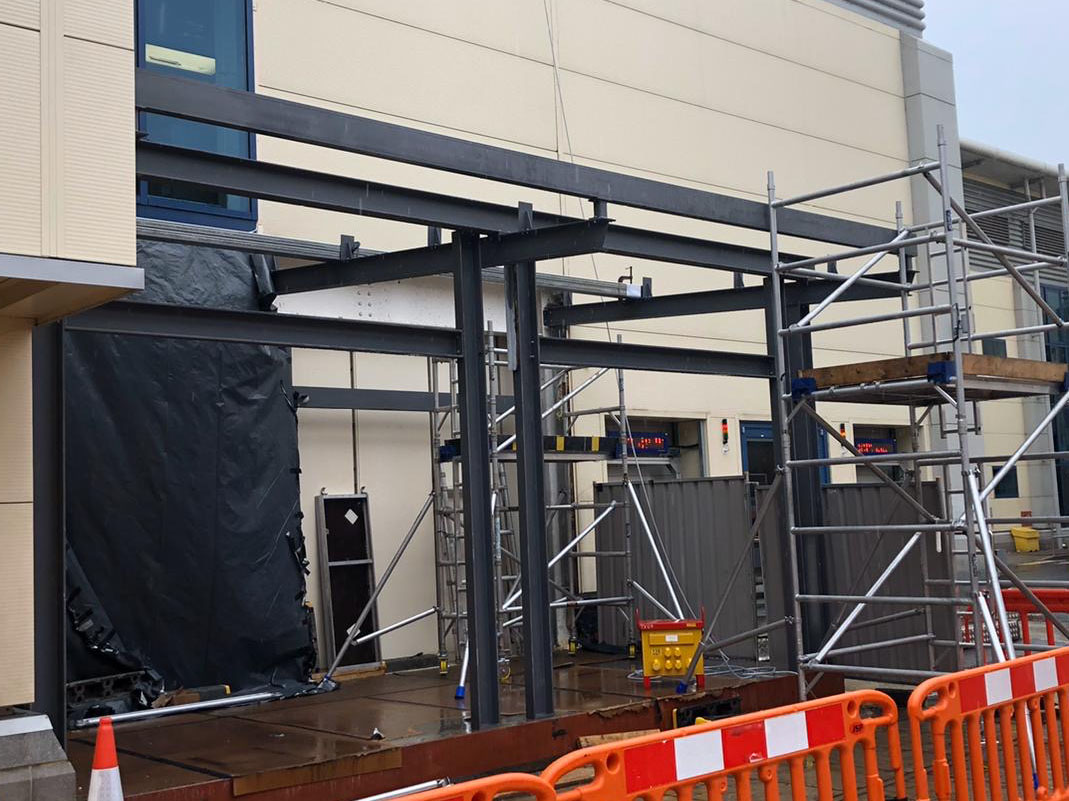 For a number of reasons, the customer had a strict deadline for completing this project. This was challenging largely because the drawings for the design of the steel framework were not fully completed. These designs had to be submitted to a structural engineer for approval before the works could commence.
There were additional considerations for the customer; the project was classified as structural, so they knew it had to be manufactured in line with CE Marking EN1090 specifications.
In choosing Alroys, they were assured that we were capable of meeting all the requirements outlined by this standard, for the purpose of guaranteeing structural integrity. This included using the correct materials and qualified technicians with experience in this particular manufacturing process.
Working to the CE Marking EN1090-2 specification
The requirements of this standard are, rightfully, onerous and take time and dedication to perfect. Shortcuts cannot be taken, unless the client wishes to take the risk of prosecution should something fail once the structure is completed.
So, how do we ensure that our work meets this exacting standard? Most importantly, we have built up a trusted supply chain network, from whom we can source the correct materials within our required timeframe. All suppliers are able to provide the necessary material certifications and paperwork trail keeping traceability intact, which is required to adhere to the EN1090-2 specification.
The next stage of compliance is for our qualified welders.
Not only must they have specific qualifications, they also have to work to a weld plan. The plan highlights all the drawings and materials they need to work with, as well as the settings at which the equipment must be used.
They must also make records of all the equipment they use (from measuring equipment to the actual welding machine itself), ensuring that everything is calibrated and within their inspection dates. Once the welding process is completed by our technicians, the welding then has to be inspected by our independent welding coordinator, who thoroughly checks each weld and confirms that the correct settings and welding wire have been used on the welding machine.
All this information will then be collated into a data pack, including any additional requirements such as finishing certificates ready to submit to the end customer upon completion.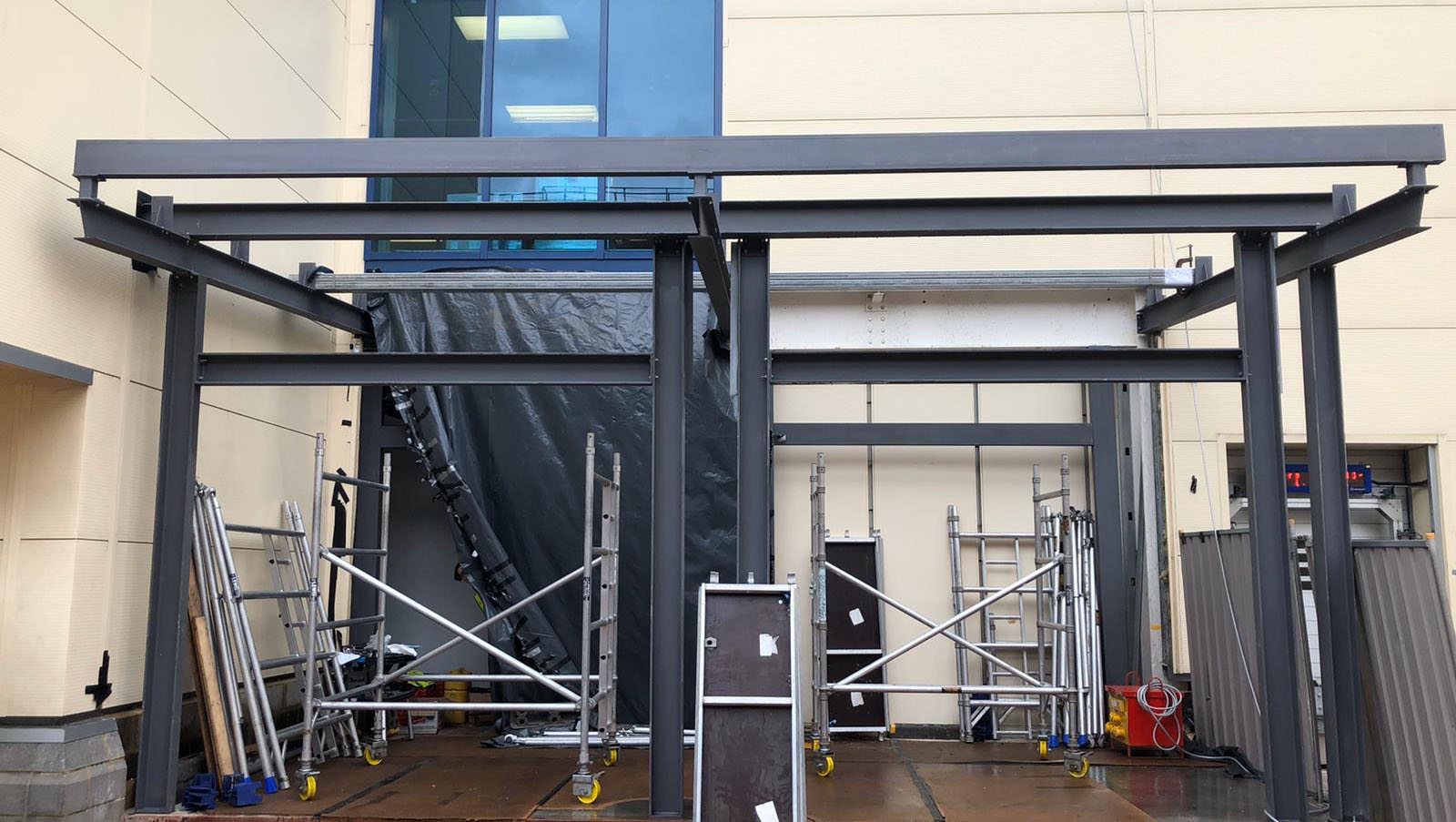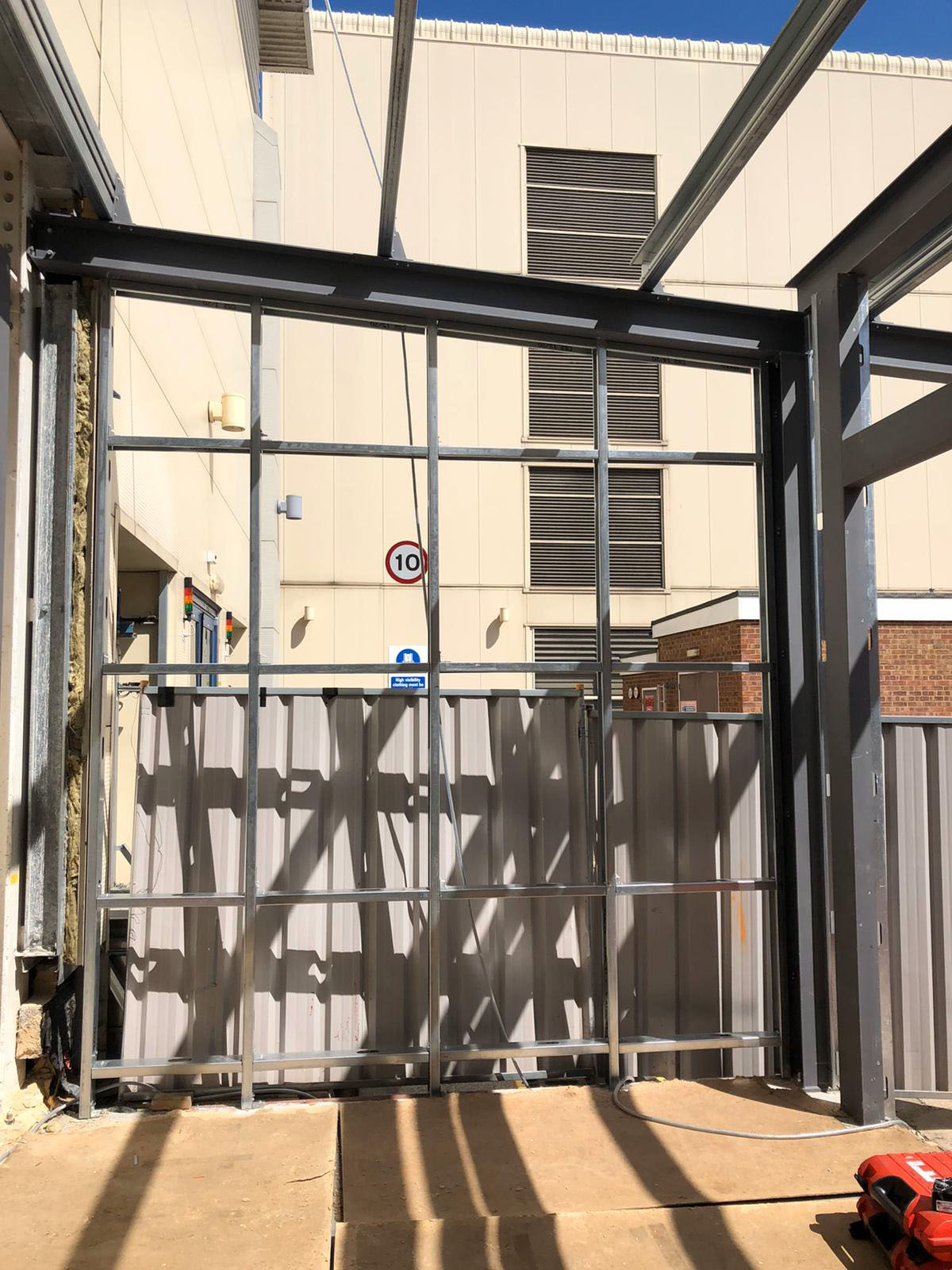 To meet the customer's deadlines, we were also happy to help speed up the design process, working with the structural designer to identify missing components such as connector brackets and purlins. The purlins had to be manufactured to an exact specification and so we liaised directly with the purlin manufacturer to achieve this.
How did this improve the outcome? Well, we were able to submit drawings to the structural engineer ahead of schedule and despite encountering a few minor issues along the way, we delivered the project on time, much to the client's satisfaction.
One example of a minor hiccup was during installation, when an existing support gusset (not something supplied or installed by Alroys) directly interfered with a major support beam which we needed to install. It had been accidentally missed from the structural drawings; had we known it was there, we could have provided a work-around. The presence of this gusset prevented us from drilling and fixing the beam in the intended position.
As a team, we discussed how to overcome this problem. In the end, we decided to redesign our support beam and make a new support bracket. These two modifications meant the beam could be fixed below the existing gusset without too much delay or change to project specifications.
Within 24 hours of discovering the problem, we had not only updated our customer (who was relieved and instantly approved our plan), but we'd also manufactured the new parts ready for installation.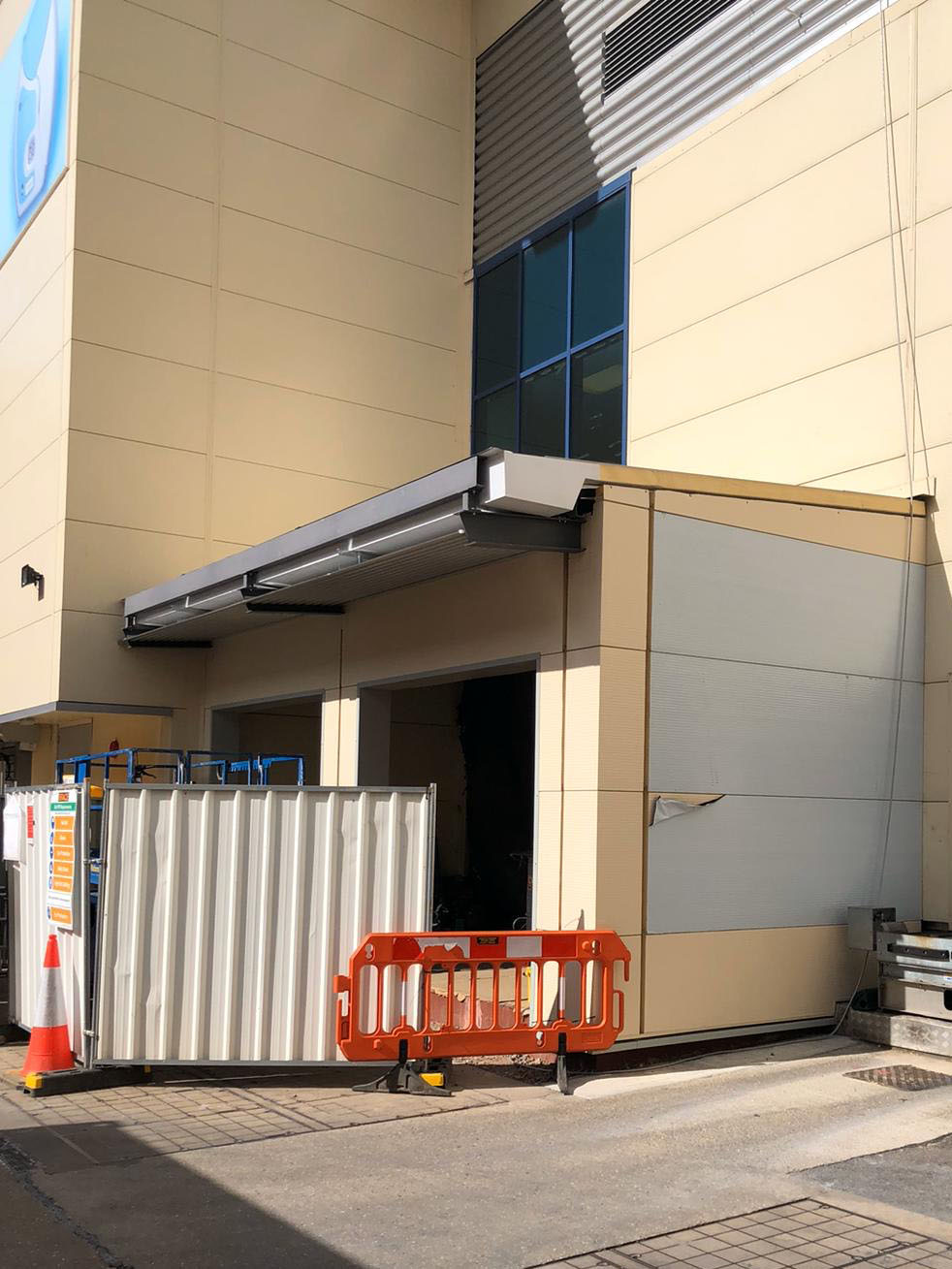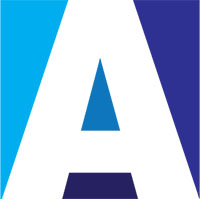 Talk to us about your next project
With over 60 years experience, we have built up a reputation of providing high quality products, on time delivery and professionalism.
As a leading steel manufacturer in the UK, we can handle any project using materials such as stainless steel or aluminium. Whether you come to us with a blank canvas or ideas already in mind, we will take on any request and contend to calculate and guarantee exceptional results.
Call us to discuss your next project.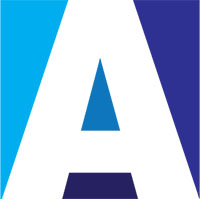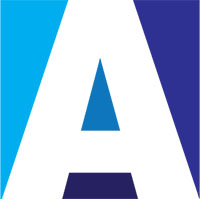 Arrange an appointment
If you'd like to visit us to discuss your next project in person, please use the number above to arrange a time suitable for you.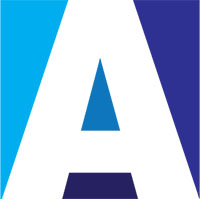 Download our brochure
Click here to download our brochure.
Depending on your browser settings, the brochure will either open in a new browser window (save to your computer to view) or will download directly to your computer. You will require a pdf reader to view our brochure once saved to your computer.