Synergy is an international property company catering to the commercial, residential, retail and hospitality sectors.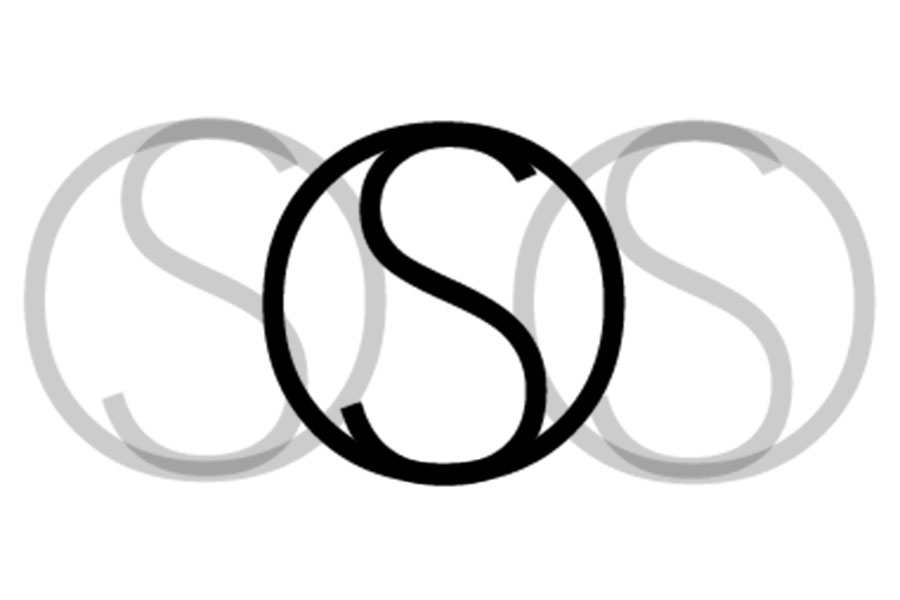 Synergy is an international property company catering to the commercial, residential, retail and hospitality sectors. They specialise in property acquisition relocations, luxury design and build projects as well as property management services.
With the bulk of their work centred on the commercial sector, Synergy is a trusted partner for many international clients. They are frequently commissioned to redesign and refurbish offices, schools, hotels, health centres and warehouses, to name a few. High-end residential developments are also a burgeoning business stream for Synergy.
Alroys has worked with Synergy for four years. Our first brief was to modify and secure glass balustrading and hand railings that had been installed incorrectly. After satisfying Synergy's requirements on this project, we were asked to assist with several other issues on site. We offered our support and advice and were able to correct all ongoing issues much to Synergy's delight. In light of our willingness to help and the quality of our work, the obvious question was raised. "Why are we paying contractors to supply and install, only to have Alroys come out to put it all right?!" Clearly it made no sense, and we were subsequently asked to quote at the tender stage for manufacture, supply and fit for several new projects. Having previously delivered (and exceeded) to Synergy's expectations, a new partnership was formed.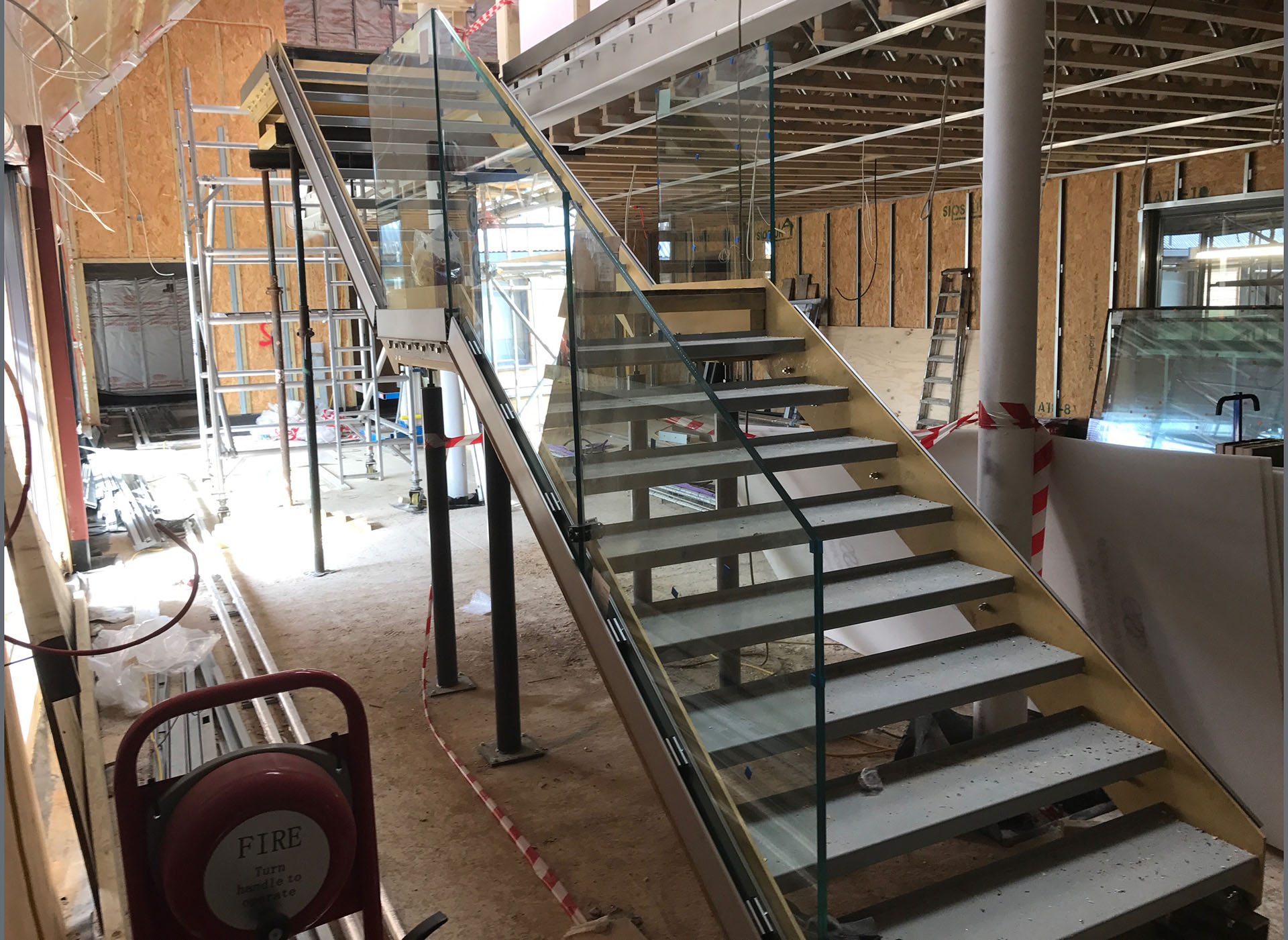 "Alroys has always come up trumps on every project we've put their way. There's never been a time when they've said they can't do something; if it's metal-related, they're flexible and happy to work around our project requirements. I couldn't ask anything more of Alroys… well, except to do the work for free!"
Martin Knott – Managing Director, Synergy Property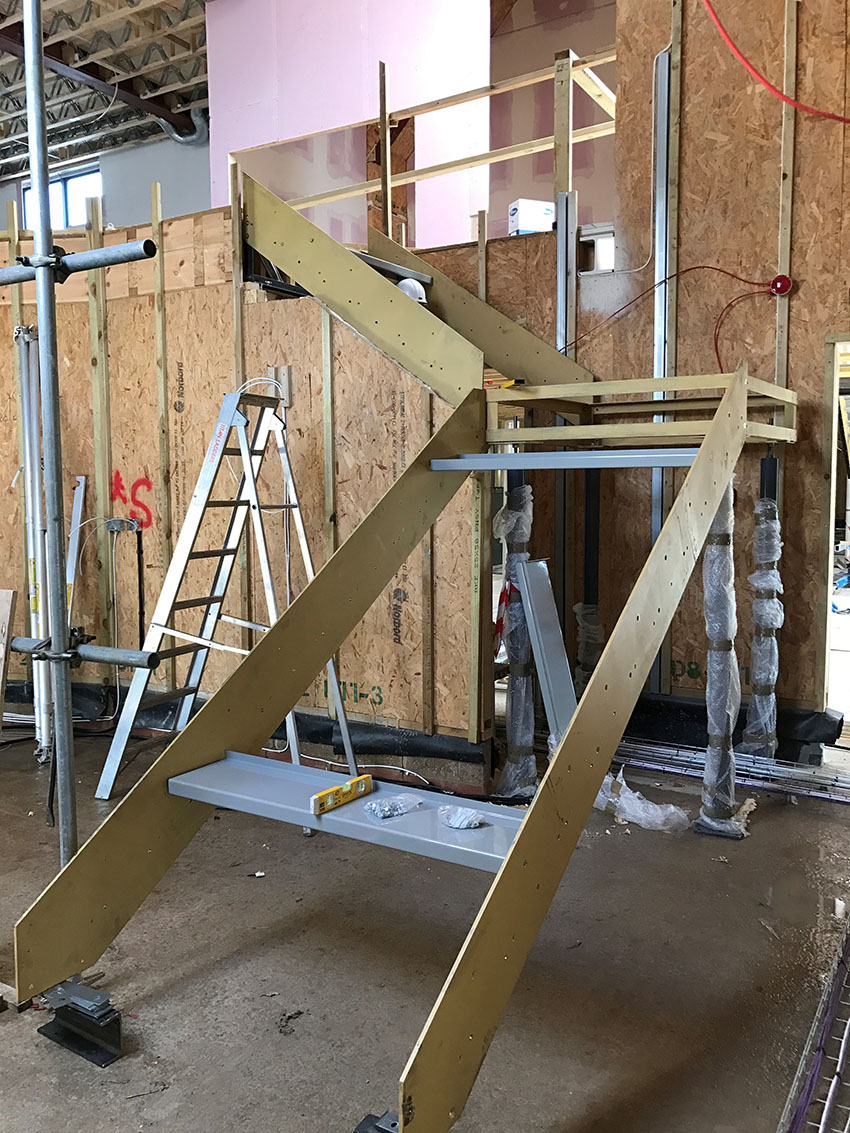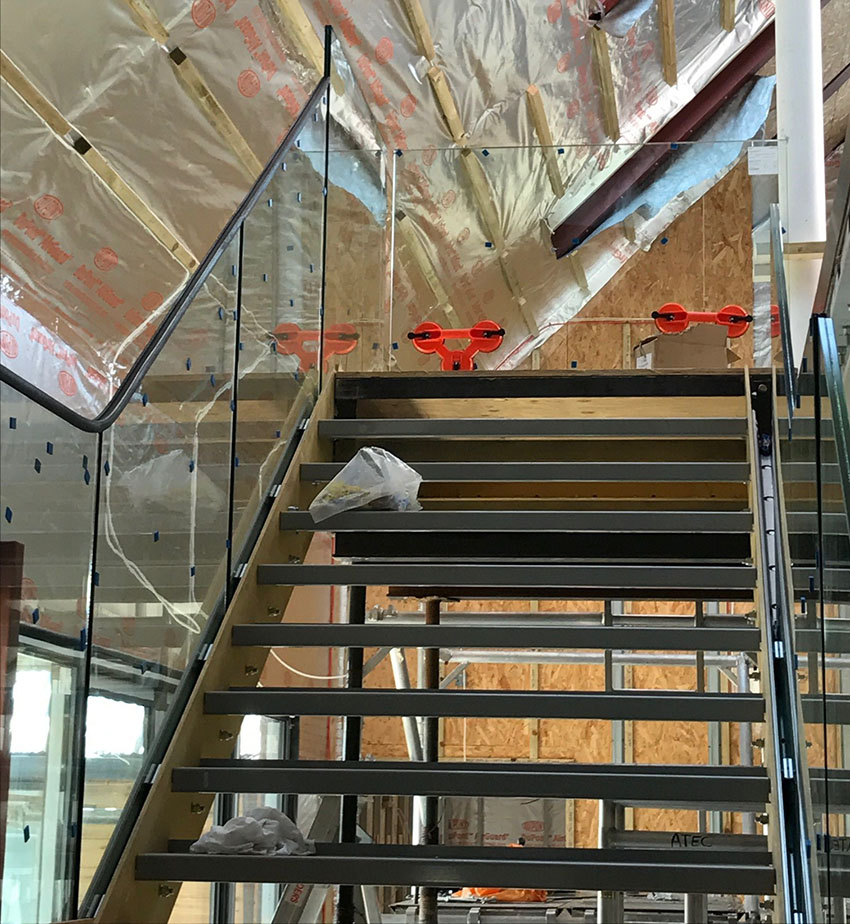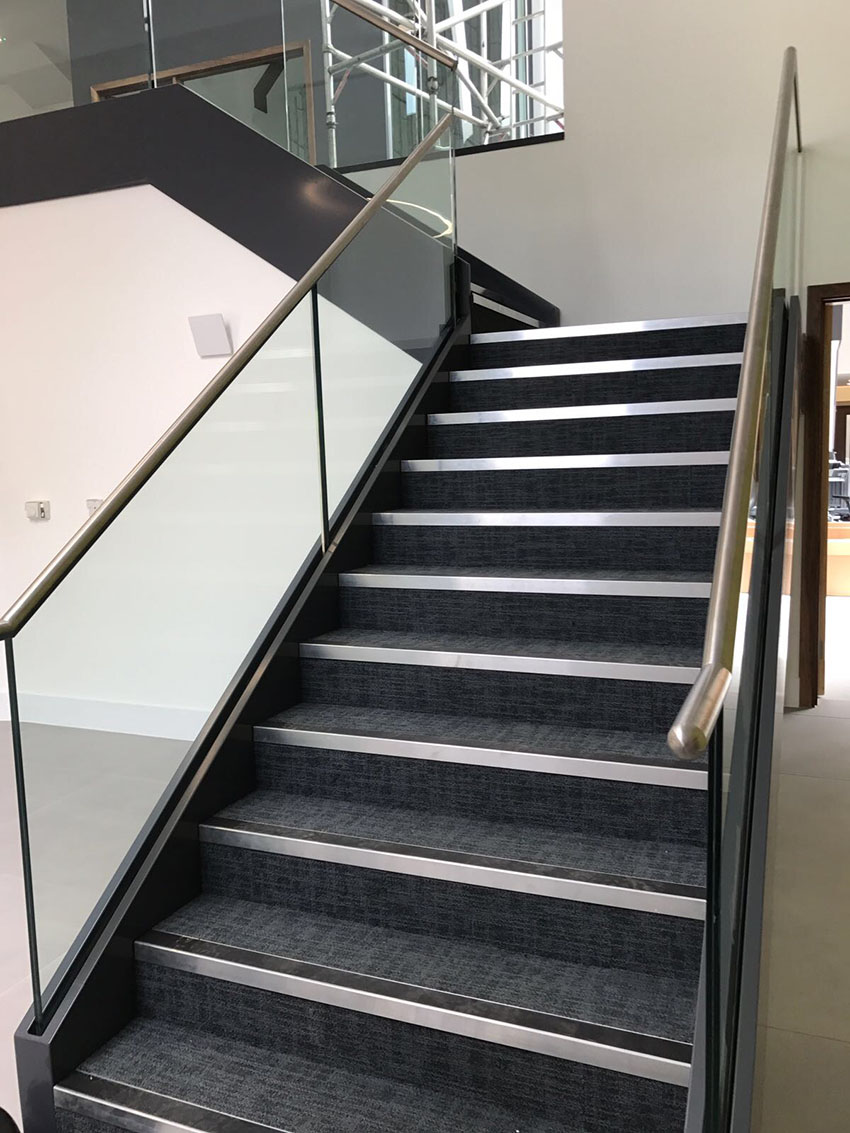 On one particular project, Synergy approached us to work with them on a new office development. The architect's original design included a wooden staircase but as can often happen, during the course of the build, the client's vision morphed into something quite different.
The new brief was to change the wooden staircase to a powder coated steel staircase with a glass balustrade. In fact, we were asked to manufacture two staircases, offering access at different locations to the first floor. The first staircase was L-shaped, turning ninety degrees on an interim platform whereas the second staircase was straight in design but again required an interim platform. The stringers for the staircases required cladding in powder coated aluminium, which would finish off the design giving it a modern look and feel.
Synergy also asked us to create an additional glass balustrade with handrail for the first floor balcony between the two staircases.
As is common with these projects, we worked closely with the client's architect and quantity surveyor on all aspects of design. This starts with the concept stage where clients invariably have a unique vision for their project, although not always one which is simple to manufacture. It's our job to help them turn that into a reality by providing solutions to any challenges that cross our path.
In this instance, we assisted with design, explaining how we would manufacture the staircase and cladding, detailing what we could do to make it look cosmetically pleasing. We searched online, sourcing various types of glass and glass fittings, which were relayed back to the customer so that they knew what was available and what would work. Once we had a finalised blueprint we were able to proceed with the fabrication of the staircases, source the glass and fittings and, once everything was completed at our factory, we assembled and installed on site. The installation ran smoothly and Synergy's customer was delighted with the outcome.
Solving a Structural Problem
It's rare that a project runs entirely smoothly from start to finish. In this case, we encountered an issue with the wooden construction of the building's first floor. We didn't believe it was structurally capable of supporting the glass balustrade balcony.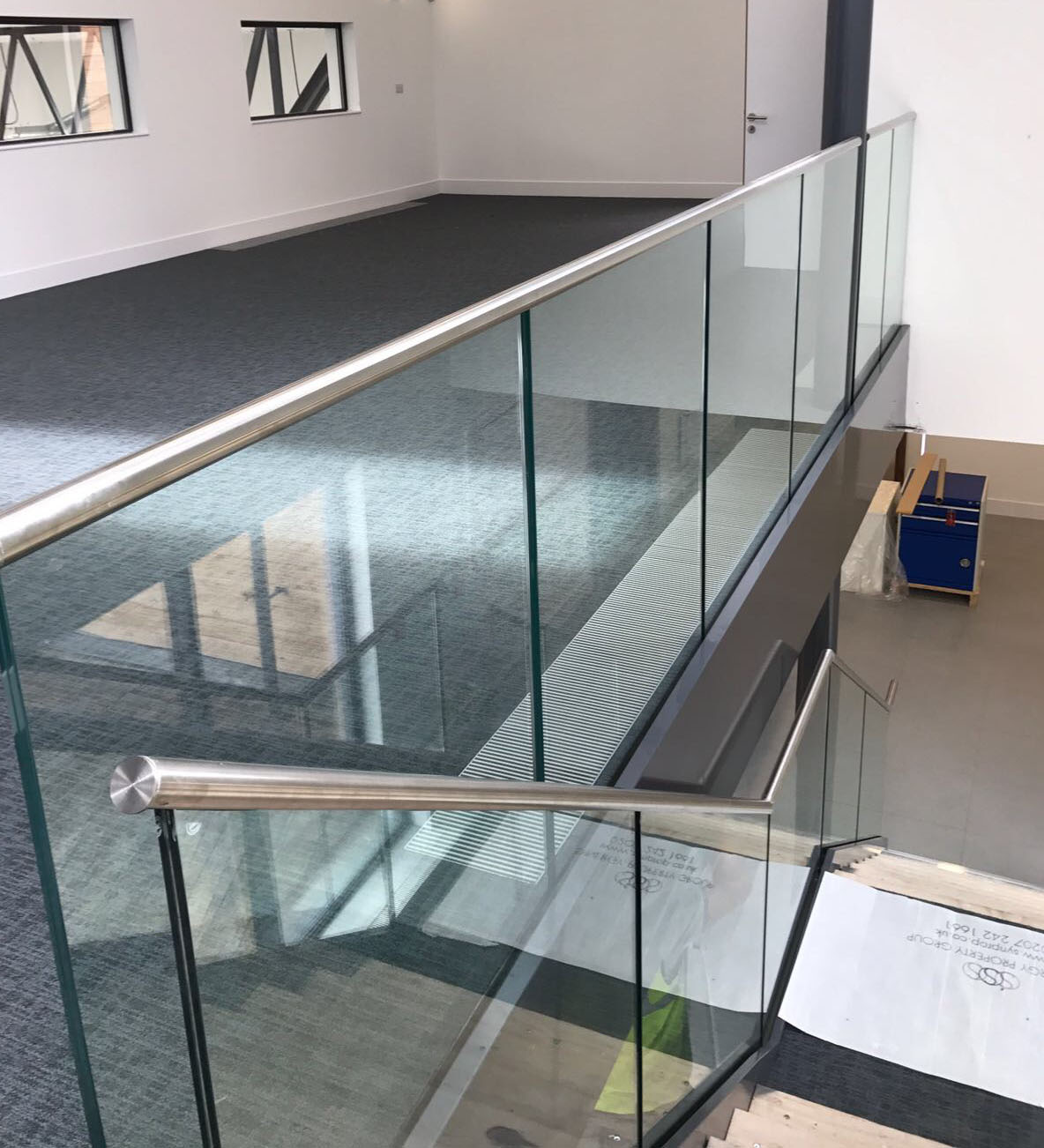 A More Than Satisfactory Result
Not wanting to run the risk of testing the wooden floor and then encountering structural problems, we came up with a solution. We designed special spacer bars that would be inserted into the wood. 
We drilled through the wooden flooring, through to the structural beam below, placing the spacer bars that we had manufactured into the holes we created. Fixing screws were then passed through the spacer bars into the structural beam adding additional strength to the balcony.
The result was perfect. Every element was structurally solid and the aesthetic was exactly as the client had desired. All parties were extremely happy with our completed works, so much so, we've already been asked to work on another project!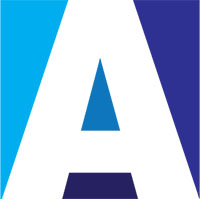 Talk to us about your next project
With over 60 years experience, we have built up a reputation of providing high quality products, on time delivery and professionalism.
As a leading steel manufacturer in the UK, we can handle any project using materials such as stainless steel or aluminium. Whether you come to us with a blank canvas or ideas already in mind, we will take on any request and contend to calculate and guarantee exceptional results.
Call us to discuss your next project.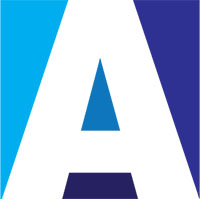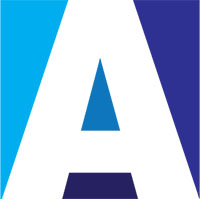 Arrange an appointment
If you'd like to visit us to discuss your next project in person, please use the number above to arrange a time suitable for you.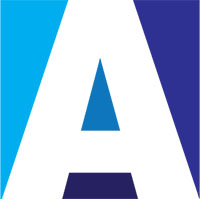 Download our brochure
Click here to download our brochure.
Depending on your browser settings, the brochure will either open in a new browser window (save to your computer to view) or will download directly to your computer. You will require a pdf reader to view our brochure once saved to your computer.