Sheet metal working –
fast-to-market components
A key objective for the sheet metal working industry is helping clients get to market fast and fulfill orders on time through the rapid and cost effective manufacture of superior components.
It's a specialist and skilled area of engineering where knowledge and experience is as vital as cutting edge technology.
The component might just be a bracket for a hinge but if it keeps a satellite turning or a window opening, it's important to get right. Whether your role is procurement, supply chain or senior management, there are 5 key elements that your sheet metal working partner can deliver:
Resolving design dilemmas
Improving functionality
Achieving cost savings
Meeting demanding deadlines
Guaranteeing '100% quality'
Sheet metal projects can involve large or small components for a range of industries. From steel cladding and foundations for the construction industry, to small, lightweight aluminium electrical connector brackets for aerospace. Such extremes of size, weight, tolerance and materials rely on precision and innovation for success.
The processes and techniques are common across the sheet metal industry. The necessary skill, knowledge and attention to detail, however, don't come as standard with every sheet metal working company.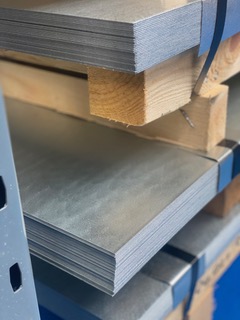 1. Prototyping
The benefits of component prototyping and multiple testing are considerable. The most obvious gain is understanding if it will work. Prototyping gives you the reassurance that your component is fit for purpose – light enough, strong enough.
Simulating and analysing the design of a component shows you how it will work in 'real life' conditions. You can experiment with different materials (copper, aluminum, stainless steel, brass alloy, etc) and generally make improvements that will give you the end result you require.
Other associated benefits can emerge from prototyping such as cost savings and gradually reducing manufacturing time.
In short, 99% of the time the prototyping stage pays for itself.
2. CNC punching
Correct tooling, punching path, speeds and feeds are critical requirements at this stage of manufacturing components. CNC punching must maintain accuracy while delivering multiple hits per second and rapid traversing speeds.
With the correct tooling, CNC punching can produce various apertures and shapes in one single hit. An extensive tooling library enables the sheet metal engineer to create components with different round, square, slots and special shapes. Rather than specifying the size of apertures, you may find your technician's tooling range delivers greater precision. Why ask for a Ø35.7mm hole if you can get Ø35.6mm, especially if there's no extra cost?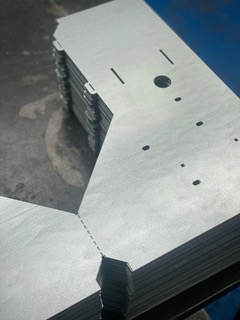 CNC punching can produce various apertures and shapes in one single hit.
3. CNC Bending
The CNC bending (sometimes called 'folding' and 'forming') process allows sheet metal of varying lengths and thickness to be shaped repeatedly at micron-level tolerance. Together with swan neck, radius and standard tooling, such advanced technology gives you cost effective precision and flexibility within short timescales.
Take, for example a multi-bend channel, consisting of 6 folds. Each individual bend is programmed in the correct sequence, setting the backstops at the required distance for height and retract, as well as setting the height and depth for the top tool. The part can then be produced in seconds, with perfect repeatability every time.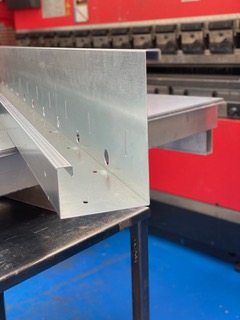 Repeatability of a multi-fold component in seconds through CNC bending.
4. Welding
Welding is a key part of the sheet metal assembly phase (see below) and often calls for specialist skills and a degree of foresight. Stainless steel, for example has no need of a protective finish but any brushed effect will be lost without care and attention at the welding stage.
5. Finishing
The finishing stage of producing sheet metal components is for protection as well as 'cosmetic' effect. Coating (textured or smooth), blasting, grinding, anodizing, heat treating – the list is a long one but choice is entirely dependent upon the metal involved and the reason for the finish. Is it increased durability, electrical resistance (or conductivity), anti tarnishing, visual appeal…? Ideally, finishing needs to be considered at the start of the project!
6. Assembly
Regardless of design or the superiority of the engineering, component assembly can jeopardise the whole project if the method is wrong or corners are cut.
The choice of assembly is dependent upon many factors such as functionality of the part, number of components involved, type of material used. Typical methods are:
Mechanical: using different types of hardware or fasteners (bolts, nuts, screws, rivets, etc) to assemble multiple parts together
Crimping: compressing parts together with small folds or ridges
Welding: fusing two or more pieces of metal together using TIG and MIG techniques
Brazing or soldering: melting a metal filler to bond two components made of different materials
Select the right sheet metal company for your components
6 key considerations to help you select the right sheet metal working company for your project:
Quality

– registration to the required standard such as ISO 9001-2015

Knowledge – broad experience of different industries, materials and projects
Technology – investment in technology and using properly
Innovation – discussing your brief and recommending changes and improvements
Prototyping – ability and willingness to undertake a testing stage
Speed – of both response and delivery
Want to discuss your next project?