The metal fabrication process is for bespoke projects
The metal fabrication process involves bespoke pieces of work – either one-offs or relatively small production runs. The brief can be for large structures such as railings, canopies and walkways but also smaller, interior design pieces where metalwork is a key feature.
As with all metal work, a diligent, thoughtful and resourceful team of skilled technicians is key to success. Clients' plans and visions often present unique challenges – solutions to which only emerge through knowledge, experience and a critical eye for detail. It's a collaborative process to which there are 3 stages:
Design and site measurement
Manufacture and finishing
Assembly and installation
Let's take a brief look at what the client can expect: 
Design and site measurement
The role of design in fabrication cannot be over emphasised. A range of objectives from performance and functionality through to cost savings and environmental needs can all be accommodated at the fabrication design stage, whatever the scale of the project.
For example, an architect might need some 'wow' factor added to a high-end residential property – a stunning staircase, for example. The metal fabricator has to interpret the architectural vision and convert it into a programme that will produce something structurally sound as well as stylish and different.
Conducting thorough measurements and evaluations of the installation site – prior to design and manufacture – is vital. This should eliminate obvious problems which, when encountered later on, cause unnecessary delay and extra cost. The installation stage (see below) often throws up its own challenges so it's important to design out any major alterations or re-positioning to the project specifications – or even the site itself.
Manufacture and finishing
Most fabrication projects involve pre-formed materials, such as angle, bar and box section. Bespoke parts are then manufactured using various methods including cutting, drilling, grinding and welding. Ongoing advances in technology mean the speed and quality of workmanship is forever improving.
Laser cutting, for example, is a flexible and cost effective process. A variety of materials – steel, aluminium, stainless steel, brass and copper – can be cut into very complex shapes with tolerances accurate to +/- 0.1mm. The aid of laser technology allows you to produce various apertures such as holes and slots into both thick plates and hollow section alike, saving hours on manual cutting and drilling times.
Selecting the right finishing process depends upon the need for environmental protection and / or aesthetic finish, and the type of metal involved. Cost effectiveness is another consideration – some processes may be expensive but deliver faster cycle rates.
In some cases it might be trial and error to see whether the tortoiseshell panelling (with a black painted finish) and table top in a pheasant feather inlay is actually working for the designer of an ornate table!
Assembly and installation
The complexity and time involved with assembly and fabrication installation varies greatly from project to project. Sometimes it isn't until the assembly stage that issues emerge. At any stage of a project, unforeseen issues and challenges can prompt an alteration to the manufacturing process. From strengthening existing structures to fixing a floating panel to a ceiling in order to cope with gravity.
The aim must be to complete a project with minimum fuss and maximum resourcefulness. On the spot decisions and action from an experienced and skilled workforce are vital. Then any necessary parts can be quickly manufactured and back with the installation team the following day.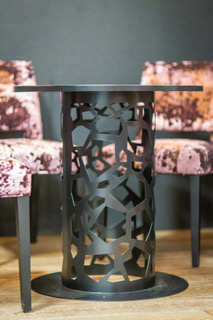 EN1090-2 / regulation / security
Regulation is a feature of most industries. Metal fabrication has to conform to various CE specifications as so many projects are likely to be classified as structural. Being able to work to EN1090-2 is vital. It covers a wide area:
Suppliers need material certifications
Qualified welders must work to a weld plan
Equipment has to be calibrated and inspected at prescribed intervals
Data packs containing the above information are collated and submitted
Metal fabrication is a partnership
So much of the work is about trust – not just because the work involves commercially sensitive information but because clients rely on their metal fabrication team to deliver what they need on time and within budget. With luck, it means working alongside them right from the start and forming a valuable partnership.
Want to discuss your next structure or metal fabrication project?