Approved steel fabricators should do more than tick boxes
In our experience, customers need more than a tick box approach from their approved steel fabricators. They need a partner to help them create whatever structure they have in mind. Blindly following a brief and hoping for the best rarely ends well. Essentially, our customers rely on us to think as well as fabricate and weld!
"Having our back" sums it up for one quantity surveyor. Following conversations with other customers, we feel this can best be demonstrated through 5 key characteristics.
1. Capability – with solid knowledge behind it
It all starts with capability and knowledge; our experience as fabricators means we create fit-for-purpose structures for our customers. This is more than following a brief, though that clearly is important. It's also about helping the customer create the right brief in the first place. And that's where the trusted fabrication partner comes in.
Not studying a drawing or concept – and really getting behind the customer's intentions – can end in disaster for lots of reasons. From not spotting that the wrong fixing has been specified to discovering a structural issue at the installation stage. Apart from the inevitable delays and / or extra cost these 'issues' can cause, the customer is unlikely to get the end result they need.
So we ask 2 key questions:
What are you hoping to achieve – what's the plan, what do you envision?
How do we achieve your vision in the most efficient and effective way – how can we help improve the design?
Often, this means a site visit to assess the 'build ability' of the project. Is EN1090 (execution of steel and aluminium structures regulation) involved? Are there any issues with the existing structure? Those site measurements on the drawing – are they accurate?
When we manufacture to a drawing, we want complete confidence that it'll work for the customer.
2. An understanding of the customer and their industry
The longer you work with a customer, the more you learn how to partner them and provide an invaluable service. A major part of this is making sure you understand key aspects of their particular industry sector. We work in 2 of the most demanding industry sectors – construction and pharmaceutical. In addition to very high health & safety standards, this also means solving problems creatively with them.
For one pharmaceutical client we created the steel framework part of a project to speed up fork truck access to, and egress from, their manufacturing facility, thereby reducing temperature fluctuations and minimising contamination. We worked with the designer to ensure the necessary components were present then liaised directly with the manufacturers on an exact set of specifications.
Helping architects achieve their vision for a building often requires us to come up with ingenious solutions to various challenges. We work with different metals (mild steel, aluminium, stainless steel etc), source specialist tools to enable us to access tight spaces, make large panels appear to float and hide the fixings and cables for miles of LED lighting.
As Brexit takes hold, being 'badged up and ready to go' will be an important box to tick for all approved steel fabricators. Those able to support their customers' European operations with UK-based capabilities will be valuable partners.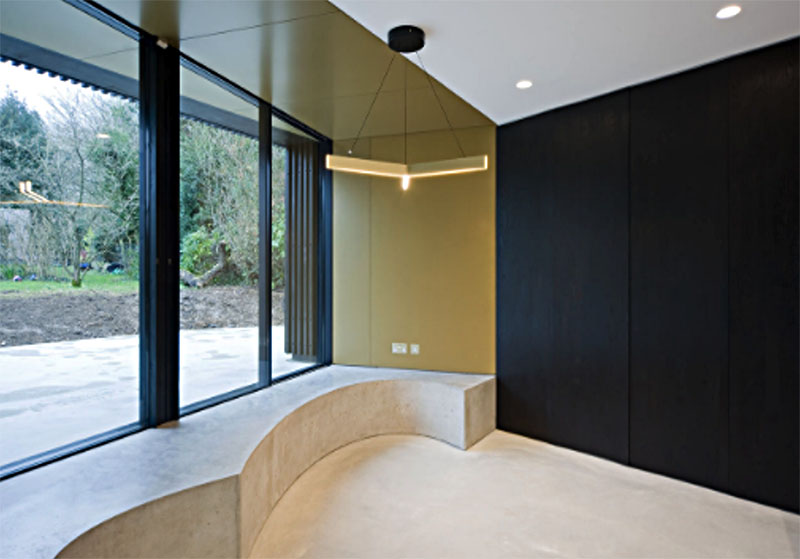 Large ceiling and wall panels secured in situ with no visible fixings
3. Reliable, accurate costing
Knowledge and experience as a fabricator are key to achieving fair and accurate costing for a project. Scrutinise the design and come up with a well-thought out process and the result will be a cost-effective price:
What's involved? A metal staircase for example – on the face of it straightforward? Look at the detail: does it need additional strengthening and fixing at floor level as well as to the wall?
Which materials do we use? Stainless steel vs mild steel? One looks good the other needs treating but is cheaper.
What kind of fixings do we need? Has the architect specified the right fixing? If not extra time and expense will result.
"Colour to be advised". Is that a special? Finishing needs careful consideration.
Who's involved in the project? One supplier (who takes on the risk at each stage – from manufacturing to finishing and installation) or, multiple suppliers plus inhouse labour plus project manager? Project management can make or break a project.
4. Chemistry and good communication
It's true – chemistry matters. Of course capability is critical but 'we're nice people' really does stand for something. You are partners working with your customer to achieve something together. Sometimes it's difficult, maybe a project takes days to quote then months of delay before go ahead is confirmed.
This is how we approach relationship-building:
Treating everything with an appropriate level of urgency.
Communicating effectively with the client using whatever combination of platforms works – email, Whatsapp, face-to-face, Zoom, etc.
Being realistic about delays to a project but being crystal clear about any impact on final price.
Making sure changes to the brief don't conflict with ultimate 'fit-for-purpose'. Our customers need us to be the objective 'voice of reason').
Being a team member and liaising directly with key professions as necessary (eg structural engineers and other manufacturers).
5. Health & Safety and compliance with regulation as standard
To some H&S is a necessary evil. To others, it's something to be ignored whenever possible. The same applies to regulations where the approach can range from ignorance to wilful refusal to comply.
To Alroys, keeping employees, contractors and the public safe is a vital part of the construction world. Working with customers to observe and follow their policies and applicable regulations is, therefore, a no-brainer for the fabricator seeking 'trusted partner' status.
HEALTH & SAFETY
"I'm only drilling a hole in the wall, so I don't need to do a risk assessment!" We don't think like that. Whatever the job, however small, we assess the risk, write a method statement and take the appropriate action. Angle grinders, towers, scaffolding and cherry pickers – if we need to use them, we need to demonstrate why, how and show the required level of training and certification to get the appropriate permit. So:
Our people are trained and qualified in the workshop and on site – from coded welding to asbestos training and IOSH. We're also extremely agile when it comes to accommodating the changing landscape of Covid-19.
We PAT test our equipment at the required intervals and follow the rules regarding noise and vibration, planning our work to reduce every kind of irritation.
Cleanliness to Alroys means clearing up every last bit of mess to reduce contamination as well to remove trip hazards.
Finally, we always wear the right PPE and behave properly on site.
REGULATION
Many of our customers work across different sectors so their knowledge of regulation is broad but – understandably – they may not have the necessary working knowledge. We do.
We know the necessary legislation for the range of work we undertake. Here are three key areas of UK regulation about which we regularly advise our customers:
1. BS EN 1090
This regulation covers structural/construction steel and aluminium products that are installed in buildings in a permanent manner. It regulates the fabrication and assembly of steel and aluminium structures to prevent them from collapsing or failing in some way thereby causing injury or death. It comes down to load-bearing and designing a structure that provides mechanical resistance and stability. Using approved suppliers with an ability to interpret the regulation is hugely important.
2. Glass
There are many British and European Standards which apply directly or indirectly to glass for use in buildings. From security glazing, resistance against manual attack to straightforward insulation, strengthening and self-cleaning coated glass surfaces.
3. Building regulations
Building regulations are minimum standards for design, construction and alterations to virtually every building. They stipulate that building are designed, constructed or altered so as to be structurally safe and robust, and not impair the structural stability of other buildings.
We don't want our work to threaten either our customers' reputation or the physical safety of the public. Consequently, we understand the necessary regulations and, equally importantly, how to interpret them intelligently, including those dangerous 'grey areas'.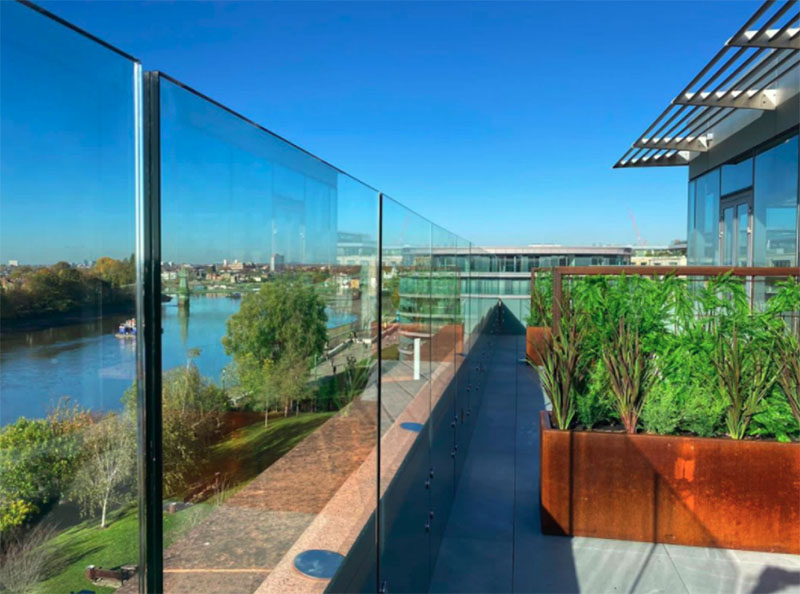 Roof-top terrace along the Thames secured by glass balustrade
Want to discuss your next project?